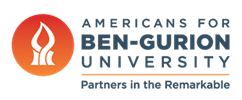 Announcing the Dawn of a New Movement
April 26, 2021
Americans for Ben-Gurion University Invites the American Diaspora to Join as "Partners in the Remarkable"
NEW YORK, April 26, 2021 – Americans for Ben-Gurion University, formerly known as American Associates, Ben-Gurion University, has unveiled a fresh new name and look, accompanied by the launch of an inspiring new movement. At its core, the nonpartisan movement aims to strengthen ties between the American Diaspora and Israel.
The newly rebranded Americans for Ben-Gurion University opens its arms to those who believe the world is simply better off because Israel is in it; the organization urges supporters to unite behind their common cause as "Partners in the Remarkable."
Additionally, those who join Americans for Ben-Gurion University, as the name suggests, believe that their support and collaboration with Ben-Gurion University will lead us all to the promise of a better tomorrow.
As its inaugural initiative, Americans for Ben-Gurion University is collecting user-submitted videos. Users can submit their own video, sharing why they've joined the movement. Initial submissions have already begun rolling in.
"Americans for Ben-Gurion University offers a unifying, 21st century vision for Israel as a light unto the nations," says Doug Seserman, chief executive officer, Americans for Ben-Gurion University. "Our goal is to build a movement focused on conveying the best of Israel, inspired by the remarkable vision of David Ben-Gurion, the University's namesake. We're inviting Americans to partner in our apolitical movement in support of BGU's groundbreaking research, along with its role in the transformation of the Negev desert."
A visionary, Ben-Gurion recognized that the uncontested land in the Negev represented the best way for Israel to create the modern state and from the very beginning, dreamed of building an "Oxford in the Negev." He moved south to a solitary Kibbutz in Sde Boqer to lead by example and spark a movement.
BGU's hands-on model of education and research is positively impacting lives throughout Israel and around the world. The University's entrepreneurial spirit and culture of innovation is driving the economic development of the Negev region. Beer-Sheva itself, where the main campus is located is becoming Israel's signature innovation ecosystem.
BGU researchers are developing life-changing breakthroughs like rapid COVID variant testing and new ways to make the desert bloom through desalination, drip irrigation, and other water treatment research and technologies.
"If you support climate change research, world-changing healthcare innovation, nurturing underserved communities, and sustainable development, you belong in our movement," Seserman says.
Meet the Americans for Ben-Gurion University by clicking on the image above.
For more information visit www.americansforbgu.org/JoinTheMovement
---
This story has been featured in JNS, Algemeiner, and Cleveland Jewish News.
ABOUT AMERICANS FOR BEN-GURION UNIVERSITY
Americans for Ben-Gurion University plays a vital role in maintaining David Ben-Gurion's vision of an "Oxford in the Negev." By supporting a world-class academic institution that not only nurtures the Negev, but also shares its expertise locally and globally, Americans for Ben-Gurion University engages a community of Americans who are committed to improving the world. The Americans for Ben-Gurion University movement supports a 21st century unifying vision for Israel by rallying around BGU's remarkable work and role as an apolitical beacon of light in the Negev desert.
Media Contact:
Andrew Lavin
A. Lavin Communications
516-944-4486
[email protected]