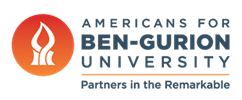 Carole and Marcus Weinstein Receive Honorary Doctorates
May 22, 2017
Ben-Gurion University of the Negev presented philanthropists and entrepreneurs Carole and Marcus Weinstein with prestigious honorary doctoral degrees recently as part of the three-day 47th Board of Governors Meeting in Beer-Sheva.
At the ceremony, BGU President Prof. Rivka Carmi conferred upon them the degree of Doctor Philosophiae Honoris Causa, "In recognition of magnanimous and noble-hearted individuals and prolific entrepreneurs who have dedicated themselves to exalted causes; their exemplary devotion to the strengthening of the Jewish community and tradition, and for their significant contribution to institutions of higher education in the United States and in Israel."
View the brief video tribute to the Weinsteins that was shown at the ceremony.
The Weinsteins also became new members of BGU's board of governors, and are among the elite President's Pillars, the University's most generous benefactors.
Carole Weinstein says, "We fell in love with Ben-Gurion University on our first visit in 2012 when we met the inspiring Prof. Rivka Carmi who leads this remarkable institution. We feel privileged to be able to contribute to higher education, and to help fulfill David Ben-Gurion's vision for the Negev and the future of Israel."
A special ribbon-cutting ceremony was also held to dedicate the new Carole and Marcus Weinstein Software and Information Systems Engineering and Cyber Security Building. It will house laboratories, classrooms, auditoriums, and offices, accommodating the various needs of information systems engineering and cyber security training and research. BGU is the first university in Israel to offer a cyber security MSc program.
Marcus Weinstein said at the dedication: "A contribution to education is not charity; it's an investment. Why Israel? To quote Warren Buffet, 'that's where the brains are.'" He ended by saying, "I know the history of Israel—all the history. And I know the sacrifices that have been made to make this 91-year-old Jewish boy a citizen of the world."
The Carole Weinstein Chair in Information Systems Engineering, for which Prof. Bracha Shapira is the first recipient, was also inaugurated.
View a video of the dedication ceremony>>
The Weinsteins founded Weinstein Properties, a real estate development firm headquartered in Richmond, Virginia. Established in 1975, today Weinstein Properties owns and manages 16,000 apartments in Virginia, North Carolina and Texas.
Among other philanthropic endeavors, the Weinsteins are major supporters of their alma mater, the University of Richmond. They have endowed three buildings on the Richmond campus. The most recent, the Carole Weinstein International Center, is a highly ranked school for international studies.
They have also provided significant funding for the Carole & Marcus Weinstein Jewish Community Center, scholarships at Virginia Commonwealth University and Davidson College in North Carolina, as well as the Virginia Historical Society, the Virginia Holocaust Museum and the Library of Virginia. They are supporters of the Jewish Community Federation of Richmond.
The Weinsteins are the proud parents of Allison Weinstein, who is married to Ivan Jecklin. They have three grandchildren.