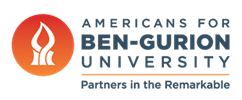 BGU Researchers Develop Cancer Breakthrough Tech
May 31, 2023
Medical Research, Research News
The Times of Israel — Ben-Gurion University researchers have developed an innovative biosensor; they're now teaming up with Israeli biotech company OncoHost in a bid for FDA approval.
Researchers at Ben-Gurion University of the Negev have developed a new bio-sensing technology that predicts cancer patients' response to immune checkpoint inhibitor (ICI) immunotherapy. More accurate and easier to implement than current methods, the technology has the potential to improve the effectiveness of immunotherapy and spare patients toxicity and debilitating side effects.
The bioassay was developed by a team led by Prof. Moshe Elkabets and Prof. Angel Porgador from the Faculty of Health Sciences at BGU, along with collaborators from Soroka Medical Center in Beersheva and Barzilai Medical Center in Ashkelon. 
"With our technology, I can take samples from pathologies from 10 years and I can do retrospective studies of thousands and thousands of patients to look for new potential patients that can respond to treatment. This will help us select the right patients with different cancer types. There is an unlimited opportunity with this technology," said Prof. Moshe Elkabets.