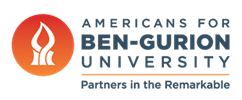 BGU Is Driving the Future with a Foldable Car
December 17, 2013
Alternative Energy, Business & Management, Robotics & High-Tech
Israel21C — If you're looking for a glimpse into the future of urban transportation, take a peek inside the workshop of a group of innovators, led by BGU alumni, who are readying Israel's entry into the folding-car arena.
The City Transformer is a quadricycle designed as an electric two-seater that folds down with the press of a button from about 5.3 feet to just 3.2 feet (one meter) in width.
Its 7.2 feet (2.2-meter) length matches the size of a motorcycle parking spot, and the entire vehicle weighs about 400 kilograms (880 pounds).
For now, the City Transformer exists only as a wooden model, but its inventors are optimistic about securing the $1 million investment needed to build a prototype in collaboration with industrial design company Yama Design, Research and Development in Netanya, Israel.
The CEO of City Transformer, Asaf Formoza, recently earned a Ph.D. in mechanical engineering from BGU with a focus on robotics and mechatronics.
Formoza says he and his partners are hardly the first inventors to design a foldable vehicle. Sketches were floated as long ago as the 1940s, but the right materials and manufacturing capabilities have only recently become available.
The City Transformer stands out from other designs mainly because of the unique way it folds and its safety features. Plus, it is designed for higher speed driving (up to 56 miles per hour), as well as longer distance driving than potential competitors in this category.
Formoza envisions manufacturers building their own models on the City Transformer skeleton, in the same way that various brands of computers all have Intel technology inside.
"We can give them the platform and they can build on our chassis. Many cars today have the same chassis," he points out. "This is one of our business models."
Formoza's partners include Chief Technology Officer Gideon Goldwine, a fellow mechanical engineering Ph.D. from BGU and co-founder of the student team to build the first Israeli Formula SAE car; and Chief Development Officer Erez Abramov, a practical engineer and rally sport driver experienced in developing motor sport vehicles.
Together they presented City Transformer at EcoMotion last May, an Israeli government and industry-sponsored "unconference" organized to create a collaborative community from a variety of disciplines to work on alternative smart transportation solutions.