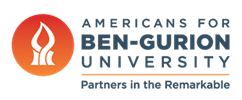 BGU's COVID-19 Research Report Updated
November 30, 2020
COVID-19 Research Projects
On March 12, 2020, Ben-Gurion University of the Negev President Prof. Daniel Chamovitz announced the BGU COVID-19 Research Task Force to harness the University's vast brain power, research skills and ingenuity to help cope with the coronavirus pandemic.
"It is our moral obligation to contribute to coping with this pandemic," Prof. Chamovitz said, urging BGU researchers to join the task force.
Prof. Chamovitz stated that the University would devote resources to bring the most promising projects to fruition. In addition, Americans for Ben-Gurion University and other donors from around the world provided $400,000 in funds to seed some of the projects.
To date, some 70 projects were developed. Among them are:
A 5-minute diagnostic test for people to take at home
A 30-second breath test to identify asymptomatic carriers
Self-sterilizing reusable face masks
Testing the occurrence of COVID-19 in wastewater to predict outbreaks
Antiviral coating that can be painted on surfaces
Read an updated report from BGU on the research>>
SOS: Support Our Students
In July, as the economic crisis soared, with more than a 26% unemployment rate in Israel, BGU began to see a surge in financial aid requests. To address this need, Prof. Chamovitz launched the SOS: Save Our Students campaign. Thanks to American donors, Americans for Ben-Gurion University raised over $3.8 million in just three months.
Together with supporters from around the world, Ben-Gurion University received more than $5.95 million and has provided financial aid packages to almost 4,000 students. That represents 20% of the student body.
This support has made it possible to ensure that no student had to drop out or postpone their studies due to financial concerns. In fact, BGU actually saw a 12% increase in enrollment for the academic year that began on October 18.
Read more about how these donations were put to work in BGU's SOS Impact Report here, which includes a brief video from BGU President Prof. Danny Chamovitz giving thanks.