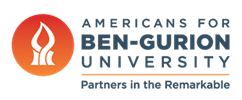 Announcing the 2020 Vision 50th Anniversary Campaign
June 8, 2016
Leadership, Awards & Events, Press Releases
The 2020 Vision 50th Anniversary Campaign was publicly launched on June 6, 2016 at Ben-Gurion University of the Negev (BGU) in Beer-Sheva, Israel. The unprecedented $500 million international campaign commemorates BGU turning 50 years old in 2020. The campaign will significantly expand the University's campuses, facilitate groundbreaking leaps in research and transform the Negev.
Watch the fabulous multi-media launch of the 2020 Vision Campaign >> (It's worth every minute.)
BGU's associate offices around the world will work to ensure Israel's place as an innovative global leader in technology, drug delivery, cyber security, alternative energy, Israel studies, and more. American Associates, Ben-Gurion University of the Negev (Americans for Ben-Gurion University) is leading the major fundraising initiative, with a goal of raising 80 percent of the total, or $400 million by 2022.
Visit Americans for Ben-Gurion University's 2020 Vision website >>
A vision statement approved by Americans for Ben-Gurion University's board of directors proclaims: "As Ben-Gurion University of the Negev looks ahead to turning 50 in 2020, American Associates, Ben-Gurion University of the Negev imagines a future that goes beyond the walls of academia. One that invents a new world. A plan that inspires our vision for a stronger Israel and for its next generation of leaders. A plan that fosters excellence in teaching, research and outreach to the communities of the Negev for the next 50 years and beyond."
A significant portion of the funds raised will be dedicated to building the University's new 57-acre North Campus, doubling the size of its footprint in Beer-Sheva. It will allow for the unprecedented growth in students expected over the next 10 years as Beer-Sheva becomes a thriving metropolis of talent and technology, with BGU at the epicenter of this transformation.
"BGU's North Campus will feature new dormitories; some of which could house the students who will perfect cancer-cell-targeting nanotechnology, laboratories where researchers might develop a cure for Alzheimer's, and a world-class conference center where countless young minds will experience 'A-ha' moments," says Americans for Ben-Gurion University's President Lloyd Goldman. Goldman is president of New York's BLDG Management Company and its affiliated entities."
When introducing the significant campaign to the University's Board of Governors two years ago, Alex Goren, BGU's board chair who is a partner in New York's Goren Brothers money management and real estate company, made the first major leadership gift. The campaign has already raised approximately $186 million from gifts and pledges of all sizes. Of that amount, $170 million has come from Americans for Ben-Gurion University's donors.
"Americans for Ben-Gurion University and its extraordinary donor family are committed to providing the support needed to continue the transformation of the Negev. We are implementing our shared vision for a new phase of development for BGU and for the region: the next great pioneering era in Israel," says Americans for Ben-Gurion University Executive Vice President Doron Krakow. "We are grateful for the existing commitments that have helped jumpstart this significant initiative and to every amount contributed to secure BGU's future."
"The University has an extraordinary mandate to fulfill David Ben-Gurion's dream to provide the Negev population with access to an education unlike any other in the world," BGU President Prof. Rivka Carmi says. "The continued support, and the University's exemplary execution, will result in a safer, healthier and economically secure Israel, and a better world."
Current and potential donors can learn more about the 2020 Vision 50th Anniversary Campaign and its many compelling fundraising opportunities by visiting Americans for Ben-Gurion University's campaign website: vision.aabgu.org. In addition to supporting the North Campus expansion, donors can learn about the diverse options online, which include:
ABOUT AMERICANS FOR BEN-GURION UNIVERSITY
By supporting a world-class academic institution that not only nurtures the Negev, but also shares its expertise locally and globally, Americans for Ben-Gurion University engages a community of Americans who are committed to improving the world. David Ben-Gurion envisioned that Israel's future would be forged in the Negev. The cutting-edge research carried out at Ben-Gurion University drives that vision by sustaining a desert Silicon Valley, with the "Stanford of the Negev" at its center. The Americans for Ben-Gurion University movement supports a 21st century unifying vision for Israel by rallying around BGU's remarkable work and role as an apolitical beacon of light in the Negev desert.
About Ben-Gurion University of the Negev
Ben-Gurion University of the Negev embraces the endless potential we have as individuals and as a commonality to adapt and to thrive in changing environments. Inspired by our location in the desert, we aim to discover, to create, and to develop solutions to dynamic challenges, to pose questions that have yet to be asked, and to push beyond the boundaries of the commonly accepted and possible.
We are proud to be a central force for inclusion, diversity and innovation in Israel, and we strive to extend the Negev's potential and our entrepreneurial spirit throughout the world. For example, the multi-disciplinary School for Sustainability and Climate Change at BGU leverages over 50 years of expertise on living and thriving in the desert into scalable solutions for people everywhere.
BGU at a glance:  
20,000 students | 800 senior faculty | 3 campuses | 6 faculties: humanities & social sciences, health sciences, engineering sciences, natural sciences, business & management, and desert research.
Media Contact:
Brian Sherry
Stern Strategy Group
908-325-3860