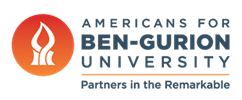 2020 Vision Fundraising Campaign Launched
September 29, 2016
Leadership, Awards & Events, Press Releases
American Associates, Ben-Gurion University of the Negev (Americans for Ben-Gurion University) launched the 2020 Vision 50th Anniversary Campaign at its Annual Meeting at the Mandarin Oriental New York Hotel on Monday evening. The evening was sponsored by Victoria and Lloyd Goldman.
The worldwide $500 million campaign on behalf of Ben-Gurion University of the Negev (BGU) will significantly expand the University's campuses, facilitate groundbreaking leaps in research and help transform the Negev. Ben-Gurion University is turning 50 years old in 2020. Americans for Ben-Gurion University is leading the major fundraising initiative, with a goal of raising 80 percent of the total, or $400 million by 2020.
Major donors and board members were treated to several surprise performances from the Broadway cast of Fiddler on the Roof. Actor Danny Burstein ("Tevye") regaled the dinner audience with "If I Were a Rich Man." Other cast members performed "Matchmaker" and "Miracle of Miracles."
Americans for Ben-Gurion University's incoming president, Toni Young, and Executive Vice President Doron Krakow paid tribute to outgoing president and philanthropist Lloyd Goldman with a reproduction of rare letters about a vision to create a "Yavne in the Negev" signed by Israel's first prime minister, David Ben-Gurion.
"It is with tremendous pride that I announce that to date Americans for Ben-Gurion University has secured commitments toward this historic campaign of more than $184 million!" said Goldman. He then told the audience that the half billion dollar campaign will help build an inspired future and invited them to watch a video that imagined what this future would look like in the year 2045.
"The 50th Anniversary Campaign is all about celebrating BGU—the miracle in the desert—and the wondrous and miraculous things that are being accomplished every day by our brilliant faculty, researchers, students, and staff," said Toni Young as she introduced Adam Kantor ("Motel") who sang "Miracle of Miracles."
A significant portion of the funds raised will be dedicated to building the University's new 57-acre North Campus, which will double the size of its footprint in Beer-Sheva. This will allow for the unprecedented growth in students expected over the next 10 years as Beer-Sheva becomes a thriving metropolis of talent and technology, with BGU at the epicenter of this transformation.
"Americans for Ben-Gurion University and its extraordinary donor family are committed to providing the support needed to continue the transformation of the Negev. We are now implementing our shared vision for a new phase of development for BGU and for the region: the next great pioneering era in Israel," says Doron Krakow. "We are grateful for the existing commitments that have helped jumpstart this significant initiative and to every amount contributed to secure BGU's future."
Visit vision.aabgu.org to learn more about this historic campaign to shape BGU's future for the next 50 years and beyond.
Photos on this page by Michael Priest Photography
ABOUT AMERICANS FOR BEN-GURION UNIVERSITY
Americans for Ben-Gurion University plays a vital role in maintaining David Ben-Gurion's vision of an "Oxford in the Negev." By supporting a world-class academic institution that not only nurtures the Negev, but also shares its expertise locally and globally, Americans for Ben-Gurion University engages a community of Americans who are committed to improving the world. The Americans for Ben-Gurion University movement supports a 21st century unifying vision for Israel by rallying around BGU's remarkable work and role as an apolitical beacon of light in the Negev desert.
Media Contact:
Andrew Lavin
A. Lavin Communications
516-944-4486
[email protected]