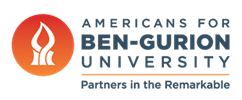 Prof. Rivka Carmi Named in Algemeiner Jewish Top 100
March 30, 2016
BGU President Prof. Rivka Carmi has been named one of the top 100 people positively influencing Jewish life by New York-based Jewish publication The Algemeiner.
In recognizing Prof. Carmi for this honor, her many achievements were highlighted:
Prof. Rivka Carmi is an innovative Israeli pediatrician and geneticist, who has served since 2006 as president of Ben-Gurion University of the Negev.

Her accolades are many; in 2015, she received an honorary Commander of the British Empire (CBE) in the name of Queen Elizabeth II. She was honored for her work to deepen scientific and academic relations between the United Kingdom and Israel.

Before she became the first woman president of a major Israeli university, Carmi's research focused mainly on delineation of the clinical manifestations and molecular basis of genetic diseases in the Negev Arab-Bedouin population. Her work resulted in the identification of 12 new genes and the delineation of three new syndromes, one of which is known as the Carmi Syndrome.
The list focuses on individuals who have positively influenced Jewish life the past year, in areas including academia; arts and culture; innovation and activism; business; community and other areas.
The Americans for Ben-Gurion University family extends our heartfelt congratulations to Prof. Carmi on receiving this well-deserved honor.