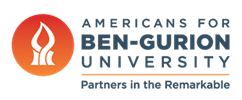 BGU Researchers Identify Genes that Increase Plant Tolerance to Heat, Drought and Salinity
June 17, 2008
NEW YORK, NY — January 23, 2008 — A research team at Ben-Gurion University of the Negev (BGU) has identified plant genes that can be altered to increase a plant's tolerance to heat, drought and salinity, facilitating survival in more arid regions.
Temperature extremes, drought and saline soils are three main causes of low crop yields, and most annual crop losses are due to these environmental effects. It is estimated that by the year 2025, an increase in crop yield of 40 percent will be needed to support the ever-growing world population. Global climate change is contributing to an increased amount of desert-like soil conditions, which is less conducive to plant growth.
The study was conducted by Dr. Simon Barak, a lecturer and researcher of the Albert Katz Department of Dryland Biotechnologies at Ben-Gurion University's Jacob Blaustein Institutes for Desert Research. The results were the subject of a recent paper published in Plant Physiology, November 2007, Vol. 145, pp. 814–830.
The research group focused on finding genes that control tolerance to multiple environmental stresses. Using the model plant Arabidopsis thaliana (whose genome had been sequenced), they discovered that by mutating one of two genes, stress tolerance could be increased to higher levels. More importantly, they demonstrated that manipulating gene expression does not have an adverse effect on plant growth.
According to Dr. Barak, "We manipulated these unique genes to enhance the plant's own tolerance systems, making the plant more resistant to salinity, heat and drought. As we decode the exact mechanism linking the genes to the degree of tolerance, we will understand them better, but so far we have only had a tiny glimpse."
The two stress response genes are part of a family composed of about 50 genes in Arabidopsis, whose function is mostly unknown in plants. In other organisms, these same genes function by regulating gene expression, one of them similar to a gene involved in tumor growth in humans.
"Ideally, we would like to create more resistant strains of staple crops such as corn and rice that are more drought resistant," Barak said. "The group has been researching the genome databases for some of these plants and has already found similar genes. We recognize the commercial applications of this discovery and we're looking to collaborate with biotechnology companies in the near future to further develop the technology."
ABOUT AMERICANS FOR BEN-GURION UNIVERSITY
Americans for Ben-Gurion University plays a vital role in maintaining David Ben-Gurion's vision of an "Oxford in the Negev." By supporting a world-class academic institution that not only nurtures the Negev, but also shares its expertise locally and globally, Americans for Ben-Gurion University engages a community of Americans who are committed to improving the world. The Americans for Ben-Gurion University movement supports a 21st century unifying vision for Israel by rallying around BGU's remarkable work and role as an apolitical beacon of light in the Negev desert.
Media Contact:
Andrew Lavin
A. Lavin Communications
516-944-4486
[email protected]