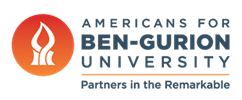 BGU Presents Americans for Ben-Gurion University President Carol Saal with an Honorary Doctoral Degree
June 30, 2008
NEW YORK, May 28, 2008 — American Associates, Ben-Gurion University of the Negev (Americans for Ben-Gurion University) announced today that its national president, Carol Saal, received an honorary doctoral degree from BGU last night during a special degree ceremony held on the Marcus Family Campus in Beer-Sheva, Israel.
Carol Saal, who was recently elected president of Americans for Ben-Gurion University for a third term, has made volunteerism, leadership and philanthropy a serious career and has applied her entrepreneurial gifts to many Jewish causes and to her Palo Alto, California community – her home for 40 years.
With her experience and contacts in Silicon Valley and as a founder of two high-tech companies with her husband Dr. Harry J. Saal, she helped expand the high-tech facilities at BGU as one of the lead donors of the Alon Building for High-Tech.
"Carol Saal is one of the most deserving individuals of an honorary doctoral degree from the University," states Roy Zuckerberg, a prominent investor from New York and chairman of the University's Board of Governors.
"Her entrepreneurial, leadership and financial contributions to BGU have been considerable. In addition to serving on the Board of Governors and leading the University's American fundraising support arm, she has helped advance research by supporting promising young scientists," he said.
As initiator and Campaign Chair of the Taube Koret Campus for Jewish Life in Palo Alto, Saal is presiding over the execution of one of the most innovative Jewish campus designs in the United States. Scheduled to open in September, 2009, it will include the 145,000 square feet, state-of-the-art Oshman Family Jewish Community Center, seamlessly integrated with a 193-unit independent and assisted senior residence.
Over several decades, she has been instrumental in raising hundreds of millions of dollars for her local Jewish Community Federation, the Taube-Koret Jewish Campus and many other non-profits, both in the Jewish and general community.
In accepting the prestigious accolade, Saal said, "I had real reservations about being honored on the same stage with people who have accomplished so much: Nobel laureates, BGU Professor and famed author, Amos Oz, and a member of the prominent Rothschild family. But, on further reflection, I realized that each of us has used our individual gifts in service to humanity in our own way."

Among her other charitable endeavors, Carol Saal is a founding member and active advocate of the Center for Clinical Immunology at Stanford University Medical Center — an initiative designed to enable bench-to-bedside research in the cause of autoimmune diseases. She serves as a senior mentor to the Henry Crown Fellowship Program, a national leadership institute headquartered at The Aspen Institute in Aspen, Colorado. Saal was also a parent-founder of the country's fifth Ronald McDonald House affiliated with the Lucile Packard Children's Hospital in Palo Alto.

Some of Saal's other past contributions in the Palo Alto Jewish Community include: chair of the Stanford Hillel capital campaign to build the Ziff Center for Jewish Life on the campus; a founder of Hatikvah, a Jewish community residential facility serving the needs of developmentally disabled adults; and, a founder of "To Life! A Jewish Street Festival" in Palo Alto that draws 10,000 community attendees.

Carol Saal is a graduate of Mt. Holyoke College. Saal helped her husband Harry launch two high-tech companies, among them Network Associates (originally Network General Corp.), working as a marketing manager until her retirement in 1992. She currently manages Saal Family Partners L.P., an investment partnership and serves as president of the Saal Family Foundation.
ABOUT AMERICANS FOR BEN-GURION UNIVERSITY
Americans for Ben-Gurion University plays a vital role in maintaining David Ben-Gurion's vision of an "Oxford in the Negev." By supporting a world-class academic institution that not only nurtures the Negev, but also shares its expertise locally and globally, Americans for Ben-Gurion University engages a community of Americans who are committed to improving the world. The Americans for Ben-Gurion University movement supports a 21st century unifying vision for Israel by rallying around BGU's remarkable work and role as an apolitical beacon of light in the Negev desert.
Media Contact:
Andrew Lavin
A. Lavin Communications
516-944-4486
[email protected]