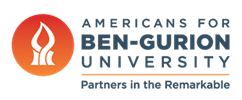 Americans for Ben-Gurion University Donors Honored Posthumously by Israel Embassy
May 15, 2018
Leadership, Awards & Events, Press Releases
The Marcus Endowment Is the Largest Ever Given to an Israeli University and Perhaps to any Israeli Institution
At the Israel Embassy event on May14 in Washington D.C. marking Israel's 70th Independence Day, American Associates, Americans for Ben-Gurion University donors, Howard and Lottie Marcus, were posthumously honored among  70 Americans who have made a uniquely valuable contribution to Israel and its alliance with the United States.
Americans for Ben-Gurion University Chief Executive Officer Doug Seserman accepted the award on behalf of Ellen Marcus, their daughter and sole beneficiary, who was unable to attend.
The Marcus legacy gift, in excess of $400 million, was donated in 2016 to Americans for Ben-Gurion University to establish the Ben-Gurion University Marcus Endowment Fund, of which a small percentage is distributed annually. The gift is the largest gift given to any Israeli university, and is believed to be the largest gift to any Israeli institution.
"Both Americans for Ben-Gurion University and Ben-Gurion University of the Negev (BGU) owe a debt of gratitude to Howard and Lottie's daughter, Ellen Marcus, who advised her parents to give the bulk of their estate to BGU," says Seserman. "She is an extraordinary individual who derives satisfaction more from giving than receiving."
Seserman also announces today that the first round of grants from the endowment has been allocated, totaling $15 million for a range of research, academic positions, buildings, and campus expansion to help develop the Negev. The grants are determined by the Marcus Endowment Advisory Committee and the BGU Grants Committee.
The vast majority of this year's disbursements, approximately $9 million, is being appropriated for completion of the new BGU North Campus infrastructure. The remainder of funds is being allocated for various University initiatives, including water and other research and development areas, faculty recruitment and retention, and Centers of Excellence.
"My parents were passionate about Ben-Gurion University and the role it plays in the future of the Negev and the State of Israel," says Ellen Marcus. "These annual grants help support a wide range of initiatives and especially their interest in water research." Marcus, who lives in Austin, Texas, has served as a vice chair of BGU's board of governors since 2006, is an Americans for Ben-Gurion University board vice president and is Austin chair of Americans for Ben-Gurion University's Greater Texas Region.
Howard and Lottie Marcus both fled Nazi Germany in the early 1930s and met in New York in 1942. He built a dental practice in Manhattan. Lottie worked at a Wall Street firm as head of the secretarial pool. Through the Wall Street Ski Club, she became friends with Benjamin Graham, known as the "father of value investing."
In the early 1960s, Graham introduced the couple to his star graduate student in his class at Columbia University Business School, predicting that the young man's new business would be very successful. That student was Warren Buffet, and the Marcuses were among Buffet's first investors.
Buffet says, "We hit it off and they joined my investment partnership. Knowing them, it comes as no surprise that they elected to use their financial success to enhance the lives of thousands of Israeli young people."
The Marcuses began supporting BGU in the late 1990s, funding a laboratory and scholarships in the fields of water, desalination and desert studies — research they hoped would support future peace in the region. The BGU Marcus Family Campus in Beer-Sheva is named in their honor in appreciation of the family's magnanimous generosity.
ABOUT AMERICANS FOR BEN-GURION UNIVERSITY
Americans for Ben-Gurion University plays a vital role in maintaining David Ben-Gurion's vision of an "Oxford in the Negev." By supporting a world-class academic institution that not only nurtures the Negev, but also shares its expertise locally and globally, Americans for Ben-Gurion University engages a community of Americans who are committed to improving the world. The Americans for Ben-Gurion University movement supports a 21st century unifying vision for Israel by rallying around BGU's remarkable work and role as an apolitical beacon of light in the Negev desert.
Media Contact:
Andrew Lavin
A. Lavin Communications
516-944-4486
[email protected]