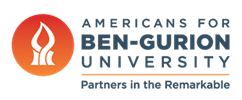 Vatican Cardinal Receives BGU Award
November 9, 2017
Leadership, Awards & Events, Press Releases, Social Sciences & Humanities
Vatican Cardinal Kurt Koch received the prestigious Ladislaus Laszt Ecumenical and Social Concern Award at Ben-Gurion University of the Negev on Monday, November 6, 2017. BGU bestows the award on a religious personality of international repute.
Cardinal Koch is president of both the Pontifical Council for Promoting Christian Unity and the Commission of the Holy See for Religious Relations with the Jews, which is tasked with maintaining positive ties with the Jewish people and Judaism.
Previous winners of the award include the 14th Dalai Lama; Archimandrite Emil Shoufani, an Israeli Christian Arab theologian and peace activist; and Rabbi Jonathan Sacks, former chief rabbi in the United Kingdom. Prof. Ladislaus and Nelly Laszt of Switzerland established the award, which "acknowledges and rewards those whose deeds reflect tolerance, hope and vision – aspects so essential to the survival of the human race."
"Cardinal Koch promotes ecumenical values through his life's work, which has been devoted to the principles of connecting and unifying Christians across Christian denominations and in his most recent role, maintaining and strengthening ties with Jews and Judaism," said Prof. Haim Hames, dean of the Faculty of Humanities and Social Sciences and director of the Center for the Study of Conversion and Inter-Religious Encounters at the award presentation.
"In light of his life's work and mission, we are proud to recognize his contributions to society within the Catholic religion and across faiths." The invitation for the award was made following a visit of a delegation to the Vatican in July 2016 that included Prof. Hames, BGU President Prof. Rivka Carmi and leaders of the American Associates, Ben-Gurion University of the Negev.
Upon receiving the award, the cardinal said, "I am deeply honored and delighted to have been chosen as somebody who is committed to ecumenical and Jewish-Catholic dialogue. Israel and the Church remain bound up with one another according to the covenant. We are interdependent by accepting one another in a profound internal reconciliation drawn from the depths of our respective faiths, thus becoming a sign and instrument of reconciliation to the world. In this conviction, I renew my gratitude for the conferral of the Ladislaus Laszt Ecumenical and Social Concern Award."