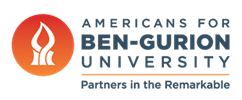 BGU Finds Vaccinated Moms Protect Babies By Nursing
April 29, 2021 - Summarized from The Times of Israel
The Times of Israel – Babies of newly vaccinated nursing moms receive antibody-packed milk for at least six weeks, new Israeli research shows.
Doctors at Shamir Medical Center near Tel Aviv collected milk samples from 84 mothers before vaccination against COVID-19. Then, two weeks after the first shot, they started a course of six weekly samples, and found antibodies that weren't previously there.
"The study is very encouraging, as it shows that there are lots of antibodies in the milk, and they stay for weeks," the lead researcher Dr. Sivan Perl told The Times of Israel.
In her study, which involved collaboration with Ben-Gurion University of the Negev, milk samples were collected before administration of the vaccine and then once weekly for six weeks, starting at week two after the first dose.
Earlier studies have pointed to the presence of antibodies, but this one, newly peer-reviewed and published in JAMA: The Journal of the American Medical Association, is notable for showing that they remain for a long period.
Dr. Perl commented: "We showed there are lots of antibodies that stay in breast milk, and they showed there is neutralization of virus in vitro, which may well suggest that breast milk gives immunity to babies."