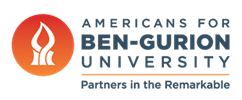 Sharing Knowledge About the Body and Health
November 11, 2014
Negev Development & Community Programs
The Jerusalem Post — Israel's Welfare and Social Services Ministry is launching an enrichment program to be held at BGU to teach people with intellectual disabilities about basic medicine.
The program, called "For the Knowledge," was developed in cooperation with BGU's Department of Community Action, the Beer-Sheva municipality, and the Yachdav (Together) charity.
The yearlong course, which will be held on campus, will provide basic knowledge about the human body and common illnesses to young adults, age 18 to 30, who are cared for by the various departments in the ministry and who have an intellectual disability.
Course participants had to apply to the program and were chosen by a special committee.
The course will be taught by medical students who were trained to teach the subject to people with disabilities. Among the topics to be discussed are the respiratory system and smoking, common illnesses, psychology and addiction. It will also include social activities and tours for participants.