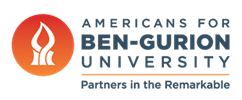 Scented Tomatoes Developed at BGU
July 30, 2008
BEER-SHEVA, ISRAEL – August 2, 2007 – A new type of genetically modified tomato with aromas of lemon and roses was developed in part by researchers from Ben-Gurion University of the Negev (BGU), which could affect the aroma of many fruits and other crops.
As reported in the July issue of Nature Biotechnology, for the first time using genetic engineering, the aroma of tomatoes was efficiently modified, affecting the perception of tomato flavor by humans. Researchers extracted a gene from lemon basil that produces an aroma-making enzyme called "geraniol synthase" in order to produce the effect.
"This work is a milestone that opens the road for restoring the full flavor of tomatoes and to a plethora of vegetables and fruits with tailor made aromas," said Yaron Sitrit, lead researcher at BGU.
Nearly all of the 82 volunteers that tasted the modified tomatoes were able to detect novel aromas, described as "perfume," "rose," "geranium" and "lemongrass." About 60 percent of the people preferred the transgenic fruits over the original tomatoes.
The finding could result in developing new tomato flavors and it is conceivable that other cartenoid containing fruits and vegetables will display a similar effect.
The tomatoes have a slightly less intense red color than regular tomatoes and contain less lycopene, the red pigment and antioxidant carotenoid that are found naturally in the fruit.
The new tomato strain was developed by the research groups of Yaron Sitrit of BGU, Efraim Lewinsohn of the Newe Ya'ar Research Centre in Ramat Yishay, Israel, and Eran Pichersky of the University of Michigan. The work is also part of the Ph.D. Thesis of BGU student Rachel Davidovich-Rikanati.
ABOUT AMERICANS FOR BEN-GURION UNIVERSITY
By supporting a world-class academic institution that not only nurtures the Negev, but also shares its expertise locally and globally, Americans for Ben-Gurion University engages a community of Americans who are committed to improving the world. David Ben-Gurion envisioned that Israel's future would be forged in the Negev. The cutting-edge research carried out at Ben-Gurion University drives that vision by sustaining a desert Silicon Valley, with the "Stanford of the Negev" at its center. The Americans for Ben-Gurion University movement supports a 21st century unifying vision for Israel by rallying around BGU's remarkable work and role as an apolitical beacon of light in the Negev desert.
About Ben-Gurion University of the Negev
Ben-Gurion University of the Negev embraces the endless potential we have as individuals and as a commonality to adapt and to thrive in changing environments. Inspired by our location in the desert, we aim to discover, to create, and to develop solutions to dynamic challenges, to pose questions that have yet to be asked, and to push beyond the boundaries of the commonly accepted and possible.
We are proud to be a central force for inclusion, diversity and innovation in Israel, and we strive to extend the Negev's potential and our entrepreneurial spirit throughout the world. For example, the multi-disciplinary School for Sustainability and Climate Change at BGU leverages over 50 years of expertise on living and thriving in the desert into scalable solutions for people everywhere.
BGU at a glance:  
20,000 students | 800 senior faculty | 3 campuses | 6 faculties: humanities & social sciences, health sciences, engineering sciences, natural sciences, business & management, and desert research.
For all press inquiries, please contact:
James Fattal, J Cubed Communications
516.289.1496