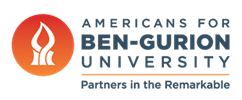 San Antonio Mayor Visits BGU
October 24, 2017
Leadership, Awards & Events, Press Releases
San Antonio Mayor Ron Nirenberg recently led a delegation of officials to BGU to explore academic collaborations as part of a trade visit to Israel.
In his remarks, Mayor Nirenberg said, "We are visiting Israel to work to connect trade, business, cultural, and educational interests. We want to bring the message that San Antonio is open for partnerships."
The mayor and delegation met with BGU President Prof. Rivka Carmi M.D, who gave an overview of BGU's history and strengths, particularly in engineering, medicine and cyber security.
The group also met with several researchers and visited the Advanced Technologies Park (ATP). BGU is a founder of and investor in the ATP, which is adjacent to the University. This endeavor has successfully created more than 2,000 high-tech jobs in just three years since it opened.
BGU is a driving force in transforming the city of Beer-Sheva into the cyber capital of Israel and a major international hub. The University has attracted major businesses and startups such as Deutsche Telekom, Dell-EMC, PayPal, IBM, and others to establish operations and research facilities in the ATP.
"We are in an accelerated growth phase, and are bridging the gap between academia and industry with this unique ecosystem that is enabling the realization of research and technology innovations from the Negev for the world," Prof. Carmi said.
ABOUT AMERICANS FOR BEN-GURION UNIVERSITY
Americans for Ben-Gurion University plays a vital role in maintaining David Ben-Gurion's vision of an "Oxford in the Negev." By supporting a world-class academic institution that not only nurtures the Negev, but also shares its expertise locally and globally, Americans for Ben-Gurion University engages a community of Americans who are committed to improving the world. The Americans for Ben-Gurion University movement supports a 21st century unifying vision for Israel by rallying around BGU's remarkable work and role as an apolitical beacon of light in the Negev desert.
Media Contact:
Andrew Lavin
A. Lavin Communications
516-944-4486
[email protected]