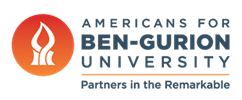 San Antonio Mayor Visits BGU
October 24, 2017
Leadership, Awards & Events, Press Releases
San Antonio Mayor Ron Nirenberg recently led a delegation of officials to BGU to explore academic collaborations as part of a trade visit to Israel.
In his remarks, Mayor Nirenberg said, "We are visiting Israel to work to connect trade, business, cultural, and educational interests. We want to bring the message that San Antonio is open for partnerships."
The mayor and delegation met with BGU President Prof. Rivka Carmi M.D, who gave an overview of BGU's history and strengths, particularly in engineering, medicine and cyber security.
The group also met with several researchers and visited the Advanced Technologies Park (ATP). BGU is a founder of and investor in the ATP, which is adjacent to the University. This endeavor has successfully created more than 2,000 high-tech jobs in just three years since it opened.
BGU is a driving force in transforming the city of Beer-Sheva into the cyber capital of Israel and a major international hub. The University has attracted major businesses and startups such as Deutsche Telekom, Dell-EMC, PayPal, IBM, and others to establish operations and research facilities in the ATP.
"We are in an accelerated growth phase, and are bridging the gap between academia and industry with this unique ecosystem that is enabling the realization of research and technology innovations from the Negev for the world," Prof. Carmi said.
ABOUT AMERICANS FOR BEN-GURION UNIVERSITY
By supporting a world-class academic institution that not only nurtures the Negev, but also shares its expertise locally and globally, Americans for Ben-Gurion University engages a community of Americans who are committed to improving the world. David Ben-Gurion envisioned that Israel's future would be forged in the Negev. The cutting-edge research carried out at Ben-Gurion University drives that vision by sustaining a desert Silicon Valley, with the "Stanford of the Negev" at its center. The Americans for Ben-Gurion University movement supports a 21st century unifying vision for Israel by rallying around BGU's remarkable work and role as an apolitical beacon of light in the Negev desert.
About Ben-Gurion University of the Negev
Ben-Gurion University of the Negev embraces the endless potential we have as individuals and as a commonality to adapt and to thrive in changing environments. Inspired by our location in the desert, we aim to discover, to create, and to develop solutions to dynamic challenges, to pose questions that have yet to be asked, and to push beyond the boundaries of the commonly accepted and possible.
We are proud to be a central force for inclusion, diversity and innovation in Israel, and we strive to extend the Negev's potential and our entrepreneurial spirit throughout the world. For example, the multi-disciplinary School for Sustainability and Climate Change at BGU leverages over 50 years of expertise on living and thriving in the desert into scalable solutions for people everywhere.
BGU at a glance:  
20,000 students | 800 senior faculty | 3 campuses | 6 faculties: humanities & social sciences, health sciences, engineering sciences, natural sciences, business & management, and desert research.
Media Contact:
Brian Sherry
Stern Strategy Group
908-325-3860