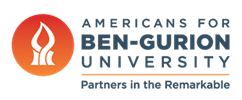 Reviving Israel's Mizrahi Roots Through Poetry
March 22, 2018
Israel Studies, Culture & Jewish Thought
The Jerusalem Post – Adi Keissar is a poet of Yemenite descent who has become somewhat of a cultural phenomenon in Israel, best known for her self-described poetry haflot (Arabic for parties), poetry readings with a Middle Eastern flair.
Keissar is part of a new generation of Mizrahim (Jews from Arab and/or Muslim lands) who are challenging Israel's Western identity, reclaiming their heritage and bringing their once marginalized culture to mainstream Israeli society.
"This new shift is attributed to an increase in recognizing that an entire public's culture was erased and not represented in Israeli society, and this public is asking for a place in the symbolic capital and in the cultural capital," says Dr. Hadas Shabat-Nadir of BGU's Department of Hebrew Literature and one of the founding faculty members of its Jewish-Arab Cultural Studies program.
"This is the cry of people who grew up here, feel this is their home and feel they have a legitimate part in the representation of Israeli culture," explains Shabat-Nadir.
"This can be likened to a teenager rebelling against his parents, one who feels that his home is a safe place and his parents will accept him – and not one who feels he doesn't have a place, that he doesn't belong to the country.
"There is one thousand years' worth of culture, literate culture, that nobody is talking about," she continues.
Keissar agrees. "There is a tragic mindset in which everything associated with culture and knowledge is automatically associated with the West," she says.
"This is a mistake and it generates racism. As a person with a cultural heritage from an Arab country, essentially what society is telling me is that I come from a place without culture and knowledge."
But this cultural erasure has of late been met with a growing momentum of cultural renewal.
In 2016, Education Minister Naftali Bennett established a committee, chaired by author Erez Biton, who is of Algerian and Moroccan descent, to improve and expand the representation of Mizrahi culture and history in the education system.
One of Keissar's most popular poems is "I am the Mizrahi," which confronts head-on the prejudices of the ruling Ashkenazi elite. It is one of three of her poems that was integrated into the nationwide curriculum.
"I think that there is a very big thirst by people who felt their culture was erased and treated as illegitimate to revisit and rediscover the roots from whence it came," says Shabat-Nadir.