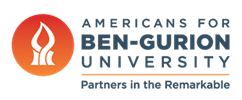 Researcher Identifies Early Cardiac Risk in Sleep Disorder
August 3, 2008
A research team led by Ben-Gurion University of the Negev researcher Dr. Aviv Goldbart M.D. discovered that Obstructive Sleep Apnea (OSA) can manifest similar cardiovascular complications in young children as it does in older children and adults. This study is the first to examine the relationship between systemic inflammation and cardiovascular morbidity in children.

OSA is a common disorder in which a person has one or more pauses in breathing or shallow breaths while they are asleep. Breathing pauses can last from a few seconds to minutes and often occur 5 to 30 times or more an hour. OSA is the leading cause of daytime sleepiness, and if left untreated can lead to increased risk factors of high blood pressure, heart attack, obesity and diabetes.

The study was conducted by Dr. Aviv Goldbart, M.D., a member of the Faculty of Health Sciences and a pediatric pulmonologist and sleep specialist at Soroka University Medical Center. The results were presented at the American Thoracic Society's 104th International Conference, in Toronto, Canada recently.

"OSA starts from the first year of life, yet very little is known regarding the cognitive, cardiovascular and other medical consequences," Goldbart explains.

The research group assessed 70 young children, aged 12 to 26 months, whose OSA was confirmed by polysomnography. The children were scheduled to undergo adeno-tonsillectomy (T&A) to remove enlarged tonsils and adenoids. On the morning of their surgery, the children were tested to determine levels of N Terminal pro B type Natriuretic Peptide (NTproBNP), a peptide marker for inflammation.

Compared to matched controls, 46 children with OSA had significantly higher levels of NTproBNP and of CRP. Three months after surgery, 20 children were evaluated. The average levels of NTproBNP and CRP had dropped below that of the control group.

"It is important to determine how closely related these two factors were in young children," said Goldbart. "It allows us to test for the inflammatory factor much earlier, and monitor the children in case surgery may be needed to correct the disorder, and avoid debilitating cardiovascular conditions later in life."

"Increased levels of CRP in children with OSA may require cardiovascular assessment," asserts Goldbart. "But further studies are needed first to determine the need to diagnose and treat OSA at a very young age."

Goldbart plans to conduct a follow-up study to determine if abnormal cardiovascular function in these children puts them at greater risk for cardiovascular morbidity as adults.