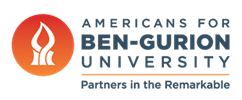 NYC Honors GalaPro With American Disabilities Award
August 3, 2018
Leadership, Awards & Events, Robotics & High-Tech
The Jerusalem Post – The hearing impaired will be able to enjoy Broadway and the whole range of American theater now that BGU has developed the award-winning technology.
GalaPro, the  Israeli startup founded by Prof. Elena Litsyn, of BGU's Department of Mathematics, with software developer Hagai Pipko,  will receive an award from the office of New York City Mayor Bill de Blasio for its smartphone application that allows people with visual or hearing disabilities to enjoy theater productions.
GalaPro—'pro' being short for prompter—enables  a smartphone, equipped with this app, to listen to a play as it is being performed, then display the dialogue as text on the screen. No specific equipment or transcriptionist needed.
Also, its unique technology is designed to respect the strict rules of theatergoers, ensuring there are no phone calls or backlight.
In addition to offering closed captioning, GalaPro can translate the performance into a variety of languages. With the click of a few buttons, that confusing Italian opera can be dubbed into English right on your iPhone.
This week GalaPro is getting an Americans with Disabilities Act Sapolin Award, which will be presented by NYC Mayor Bill de Blasio at his Gracie Mansion residence.
The Sapolin Awards honor individuals or groups that have contributed to broadening accessibility for individuals with disabilities. The award is named after Matthew Sapolin, who served as the commissioner of the New York City Mayor's Office for People with Disabilities from 2006 until his death in 2011 at the age of 41.
"[GalaPro] was born of the idea that live shows, theater, cinema, and opera could be an experience anyone can enjoy – breaking down translation, cultural and even physical barriers to make them accessible to all," says Prof. Litsyn.
The app supports a selection of popular Broadway shows, including "Chicago," "Dear Evan Hansen," and "The Phantom of the Opera." The majority of shows supported by the app are currently in New York, although the app includes services for a handful of shows from other cities.