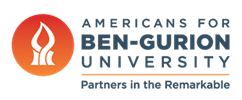 BGU, the Negev Desert and the Future of Wine
January 21, 2021
euronews — In the Negev Desert, the sun beams down onto desolate earth. The air is dry and the land arid.
But up on a mountain ridge near the town of Mitzpe Ramon, rows of vines sprout from the scorched soil – the only glimmer of green in a barren landscape.
This is no desert mirage. Those sprouts are part of an experimental vineyard where researchers from BGU are investigating how grapes can grow under the extreme conditions that dominate this region in southern Israel.
"Climate change is making for more volatile weather patterns," says Prof. Aaron Fait, a plant molecular biologist with BGU's Jacob Blaustein Institutes for Desert Research. "The Negev can serve as a testing ground to understand how climate change will affect vines and figure out ways of adapting."
Viticulture in the region dates back millennia. The Nabateans – a nomadic tribe that lived in the Negev area about 2,500 years ago – built terraces and small stone dams to divert water that fell during rare downpours and would grow wine grapes.
Now, Fait and his colleagues are making modern use of this ancient legacy to develop new desert-taming techniques. One consists of a trellising system to force vines to grow in a pattern, so that the leaves create a canopy casting shadow over growing clusters. Scientists are still experimenting with nets and covers of different densities and materials to limit heat exposure.
"Grapes mature and ripen faster in warmer conditions, leading to lower acidity and higher sugar levels," explains Fait.
"That upsets characteristics like the alcohol content, the drink's color and, ultimately, the wine's flavor. The Negev is uniquely suited to these kinds of experiments because you can control environmental variables like nowhere else in the world," he says.
To test innovations, Fait and his team work with local wineries like Nana Estate. The owner, Eran Raz, fondly recalls a time when he had to deflect water from neighbors who were showering to irrigate his crops! That was over a decade ago now.
Fait says that he was drawn to this inhospitable and remote environment because of its history.
"People have grown grapes and drunk wine here since biblical times," he explains. Fait is confident that it will be these antiquated traditions, alongside new technologies, that will pave the way for the future of wine.