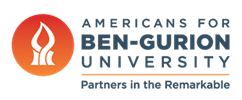 MSIH Alum Creates SplitVent Device
May 7, 2020
Dr. Tobin Greensweig (MSIH '14) was already an engineer before he started medical studies at BGU's Medical School for International Health in 2010.
He's now in his second year of his critical care medicine fellowship in the Indiana University School of Medicine Pulmonary/Critical Care Program.
As hospital wards overflow with asphyxiating patients, ventilators  have become the holy grail of medical devices.
Even while Dr. Greenweig is working on the front lines of the COVID-19 pandemic, he is working on a practical solution to the ventilator issue.
He developed a device called SplitVent, which is a collection of 3D-printed parts that allows more than one patient to be ventilated by a single machine. View a video of SplitVent >>
He has shared all of his files on the Github open source forum so that other doctors and hospitals can use, apply and adjust his ideas.
Even while in medical school, he used engineering expertise to help others. In his spare time, he created an open-source patient record system for the Terem refugee clinic in Tel Aviv.
Read more on the MSIH website >>
Meet MSIH alumni and and a student on our May 27 webinar, "COVID-19: Working on the Front Lines." Learn more >>