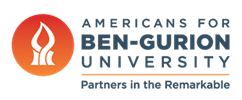 BGU Students Create Pluralistic Jewish Community
August 22, 2016
Negev Development & Community Programs
The Jerusalem Post — Just as the very first Moishe House began with four Jewish 20-somethings hosting Shabbat dinners, the Beer-Sheva house began with four young Israelis — and their dog — trying to build Jewish bridges within the city.
It took a while for the Beer-Sheva house to formally become part of the Moishe House organization, but in the meantime its four residents — three of whom are BGU students — laid the foundation. They started hosting Shabbat dinners, parties and lectures several times a month.
"We were people who did this type of thing anyway, so we decided to live together and do it," says  Itay Itamar.
Zoe's House — named for the dog the residents were fostering — officially became a Moishe House in June with support from Americans for Ben-Gurion University and the Joyce and Irving Goldman Family Foundation. The connection between Moishe House and Americans for Ben-Gurion University was made through a mutual board member, Jaynie Schultz, of Dallas, Texas.
"I feel so privileged to be involved with two outstanding organizations," says Schultz. "The opportunity presented by this joint initiative will make the outcome exponential."
The Moishe House model sees residents opening their home five to six times a month for communal activities, and in return receiving a partial rent stipend and a programming budget, along with training and staff support.
"I want our home to be a welcoming place that can show young people cool and new sides of Judaism," says house resident Tal Megera.
In addition to a social platform, the house provides the community with lectures, Jewish learning, songwriting workshops, yoga, talks by politicians and city leaders, and much more. Each resident brings his or her own interests to Moishe House, making for a diverse range of activities.
The Beer-Sheva Moishe House crowd has ranged from ultra-Orthodox to atheist.
"It's a Jewish community, and when we have non-Jews come for Friday night dinner, it shows them the warm, open, embracing side of Judaism, says Yotam Rechnitz.
"Moishe House deals with Judaism in a pluralistic way and, I think, is special and rare," he adds
Residents and community members also step outside the house to volunteer in the community. To celebrate a resident's birthday, for example, they painted a women's shelter.
"There are a lot of young people here who want to take responsibility and help change the city," says Rechnitz.