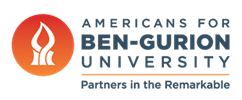 Hadassah Honors BGU President for Breaking Glass Ceiling
July 1, 2008
Uncategorized
Although Israeli women still suffer violence and unequal advancement and pay, they are making impressive gains in "breaking through the glass ceiling" and paving the path for achievement for the younger generation, said Prof. Rivka Carmi, the first woman president of an Israeli university and first woman dean of an Israeli medical school.
Carmi was one of three recipients of the 2008 Women of Distinction Award of the Hadassah Women's Zionist Organization of America, given in the Knesset auditorium on Tuesday. The other recipients were Orna Porat, the leading lady of Israeli theater, and Prof. Anita Shapira, Tel Aviv University's outstanding biographer and historian of Zionism.
Hadassah national president Nancy Falchuk, who flew in from New York to attend the ceremony, said, "Every woman who achieves distinction makes room for others. Once the glass ceiling breaks, it's hard to put it back."
The three recipients were lauded by Knesset Speaker Dalia Itzik, the first woman to lead the Knesset. The award was first given in 1997 and continued annually until 2003. It was renewed for 2008.
Carmi, a leading pediatrician and geneticist who graduated from the Hebrew University-Hadassah Medical School and did much to promote health among the Bedouin after moving to Ben-Gurion University of the Negev's Health Sciences Faculty in Beersheba, gave up her stethoscope for the top academic position two years ago. Porat, the German-born stage actress who converted to Judaism before her pre-state immigration to Israel, has starred in major Israeli and international stage productions and founded the Orna Porat Theater for Children and Youth in 1970.
Shapira, founder of the Yitzhak Rabin Center for Israel Studies, has revived the study of Zionism, turned it into a well-recognized academic discipline and authored many books of history.
"You couldn't have chosen better," Itzik told Falchuk at the ceremony, which was hosted by Kadima MK Amira Dotan (formerly the highest-ranking woman in the Israel Defense Forces) and chaired by Hadassah's Leah Reicin from Chicago.