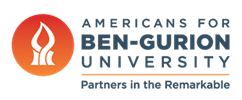 Times of Israel: EC President Receives BGU Honorary Doctorate
June 16, 2022
The Times of Israel — Israel and Europe are natural partners because of their democratic values and shared past, European Commission President Ursula von der Leyen said Tuesday morning in a speech at Ben-Gurion University in Beer-Sheva.
"Europe and Israel are bound to be friends and allies," said von der Leyen. "Because the history of Europe is the history of the Jewish people." The German politician, who has headed the European Union's executive arm since 2019, spoke after being granted an honorary doctorate from the University.
"The strongest bond we share is our belief in democracy and in democratic values," she said, praising the legacy and vision of Israel's first prime minister, David Ben-Gurion. "Democracy has strengthened our special bond of friendship through the decades," she added. "Today more than ever before, democracies like Europe and Israel should come closer together."
Von der Leyen landed in Israel on Monday with Italian Prime Minister Mario Draghi. Both leaders were due to hold energy talks in Israel, which has turned from a natural gas importer into an exporter in recent years.  In keeping with the European Commission's view that natural gas — a fossil fuel — counts as green energy, von der Leyen said that Europe-Israel energy cooperation would help fight climate change.
In her speech, von der Leyen condemned European antisemitism as well. She emphasized that Europe would not be what it is today without Jews, saying that "Europe is the values of the Talmud, the Jewish sense of personal responsibility, of justice and solidarity."
"Long live Europe, Am Israel Chai," President Ursula von der Leyen finished, using the Hebrew term for "The nation of Israel lives."
Read more in The Times of Israel >>