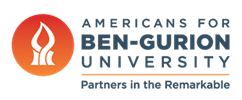 Dr. Sara Abu Kaf: An Inspiration to Many
January 20, 2015
Leadership, Awards & Events, Negev Development & Community Programs
Dr. Sara Abu Kaf, a BGU alumna and member of the University's Conflict Management and Resolution Program, was recently inducted into the 2014 Women in Science Hall of Fame by the United States Embassy.
The Women in Science Hall of Fame, initiated by the U.S. Embassy of Amman's Environment, Science, Technology and Health Office for the Middle East and North Africa, honors women from a variety of scientific disciplines, recognizing them for their accomplishments and for being role models for women and girls pursuing science education and careers.
Dr. Abu Kaf is one of 11 women honored this year from countries including Israel, Jordan, Kuwait, and Iraq.
Dr. Sara Abu Kaf was the first woman from her Bedouin village to attend university, and is the first Bedouin clinical psychologist in the Negev. She recently returned from Harvard where she pursued postdoctoral studies as part of a Fulbright fellowship.
Based on her research with Bedouin women, Dr. Abu Kaf developed a mental health services model to prevent and treat depression among vulnerable populations. She initiated an intervention program to address dropout rates of Bedouin students. Dr. Abu Kaf has also taught classes at BGU focusing on violence prevention.
She gives back to her community and the University by conducting workshops for female Bedouin students to help them cope with the stresses of academic life.
What's more, Dr. Sara Abu Kaf was the original inspiration for the Robert H. Arnow Center for Bedouin Studies and Development.
Early on as student at BGU, Sara Abu Kaf met Joan (of blessed memory) and Bob Arnow, longtime Americans for Ben-Gurion University community members, by chance in 1996 during a visit to Beer-Sheva's Bedouin market.
When the Arnows asked about her experience studying at BGU, Sara shared that she was facing financial challenges (not uncommon for Bedouin students) and she didn't think she'd be able to continue her studies without a scholarship.
The Arnows were so impressed with Sara that they provided scholarships for her and nine other female Bedouin students. This number expanded to 15 scholarships, then 25. Then they started thinking about setting up a support program for Bedouin education at Ben-Gurion University.
Established in 1997, the Robert H. Arnow Center for Bedouin Studies and Development provides Bedouin students at BGU with support, tutoring, counseling, and tuition assistance to help them successfully navigate their academic careers.
The Center has successfully helped hundreds of Bedouin students achieve their academic goals and become powerful role models for young people.
Many Bedouin BGU alumni are now working as lawyers, doctors, accountants, engineers, and teachers, transforming their communities and helping strengthen Israeli society as a whole.
Now, when you contribute any amount to the Robert H. Arnow Bedouin Scholarship Matching Gift Program, your donation will be matched dollar-for-dollar by the Arnow family of New York. Visit our Bedouin scholarship fund donation page and help more Bedouins gain access to higher education.