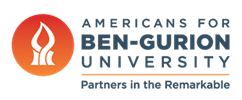 Dr. Michael Feige z"l
June 9, 2016
The Americans for Ben-Gurion University and BGU families are shocked and saddened to learn of the death of Dr. Michael Feige, who was killed along with three others in a terrorist attack in Tel Aviv yesterday.
Dr. Feige, 58, was head of the Israel studies track in the Faculty of Humanities and Social Sciences and a member of the Ben-Gurion Research Institute for the Study of Israel and Zionism. A sociologist and anthropologist, he specialized in Israeli society, collective memory and political myth.
His book, Settling in the Hearts: Jewish Fundamentalism in the Occupied Territories, won the Shapiro Prize from the Association of Israel Studies in 2010.
"Michael was one of those who was head and shoulders above the crowd. An amazing person and a fantastic researcher," says Prof. Oren Yiftachel, head of the Department of Interdisciplinary Studies at BGU.
"He was a very important researcher who delved into sensitive topics and derived interesting insights. He was one of the good ones, open and attentive. He was a true democrat, a rare breed in that regard. This is a heavy loss for our university. He had the ability to understand all sides and therefore he was such a good anthropologist."
Students and faculty from the Ben-Gurion Institute added, "All who knew Michael knew that he was always able to combine his penetrating and analytical thinking with a profound respect for others and a gentle and accepting manner even in argument and debate.
"Michael was a friend, scholar and teacher. Above all, Michael was the incarnation of a man of reason, tolerance and peace. We are left with a deep and painful void with his loss."
We extend our sincerest condolences to the loved ones of Dr. Feige, and to those of Ido Ben Ari, Ilana Neve and Mila Mishayev, who were also murdered in the attack.
Dr. Feige is survived by his wife and three daughters.