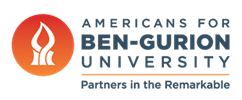 Desertification Conference Focused on Climate Change
November 20, 2020
Desert & Water Research, Press Releases
American Associates, Ben-Gurion University of the Negev (Americans for Ben-Gurion University) was a proud to sponsor of the 2020 Drylands, Deserts & Desertification Conference (DDD) organized by Ben-Gurion University of the Negev (BGU) in Israel that addressed one of the most pressing worldwide issues, "Feeding the Drylands: Challenges in a Changing Environment."
The DDD conference is affiliated with the United Nations Convention to Combat Desertification (UNCCD). DDD has become a seminal event — generally held every other year — for those interested in the techniques, policies and practices of combating desertification. More than 40% of Earth's landmass is considered drylands, and that percentage rises every year.
According to Doug Seserman, Americans for Ben-Gurion University chief executive officer, "The DDD Conference has been one of the rare events that the United Nations holds in cooperation with Israel. Americans for Ben-Gurion University has been a sponsor of this conference since its inception and is proud of BGU's leadership in addressing one of the planet's most significant challenges.
"Additionally, because it took place virtually, we surpassed expectations with as many as 2,400 people from 110 countries participating."
This year, the world's largest desertification-focused conference was held virtually from November 16-18, 2020 at no charge. Organized by BGU's Jacob Blaustein Institutes for Desert Research, the conference brings together the world's premier researchers and practitioners in the field from the U.S., Israel, Europe, and many other countries facing desertification, including Brazil, India, China, Kenya, and more.
"The DDD conference has grown to be the most important and influential conference in the world addressing sustainability, environmental issues, water scarcity, and food security in drylands," says Prof. Noam Weisbrod, director of the Blaustein Institutes. "In light of the severe global changes the world is facing and their dramatic influence on drylands in general and on developing countries in particular, DDD is more significant than ever before."
More than 160 experts discussed all this and more with an eye to the practical: strategies, technologies, information sharing, and partnership building. Among the American universities and agencies that presented were: Bennington College, Harvard University, Massachusetts Institute of Technology, Penn State, United States Department of Agriculture, University of Arizona, University of Arkansas, University of Illinois, Utah State, University of Texas, University of California, and Vanderbilt University.
The conference topics was divided into four tracks: Food, Water, Human and Ecosystem. Speakers addressed such issues as:
What will it take to contain desertification?
How are BGU researchers helping the worldwide wine industry as they develop world-class wines in the Israeli Negev desert?
New desalination and water treatment research and technologies.
What is the connection between the climate crisis and desertification, and the human component in the crisis?
How is desertification and the COVID-19 pandemic connected?
How does desertification affect the food on our plate, and will our nutrition change significantly?
According to Prof. Shimon Rachmilevitch, DDD conference chair, "The causes and consequences of desertification affect every creature, plant and human on the planet. The importance of researching and understanding desertification is part and parcel of understanding climate change. This international conference, sponsored by the UN, is the most important stage in the world to hear, be heard, learn, and draw conclusions that will benefit humanity and the planet."
ABOUT AMERICANS FOR BEN-GURION UNIVERSITY
Americans for Ben-Gurion University plays a vital role in maintaining David Ben-Gurion's vision of an "Oxford in the Negev." By supporting a world-class academic institution that not only nurtures the Negev, but also shares its expertise locally and globally, Americans for Ben-Gurion University engages a community of Americans who are committed to improving the world. The Americans for Ben-Gurion University movement supports a 21st century unifying vision for Israel by rallying around BGU's remarkable work and role as an apolitical beacon of light in the Negev desert.
Media Contact:
Andrew Lavin
A. Lavin Communications
516-944-4486
[email protected]