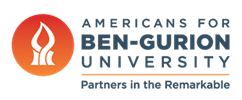 Chinese Students Participate in Israel Seminar
February 27, 2017
Israel Studies, Culture & Jewish Thought
About 50 Chinese students who are currently studying in Israel were recently guests at BGU's Sde Boker Campus to participate in the [email protected] Seminar for Chinese Students in Israel.
Now in its third year, this unique seminar is hosted by the Center for Israel Studies (CIS) at the Ben-Gurion Research Institute for the Study of Israel and Zionism, and made possible by the support of the Diane and Guilford Glazer Foundation.
The Ben-Gurion Research Institute is home to the Woodman-Scheller Israel Studies International Program, an international graduate program in which several Chinese students participate each year.
While many Chinese students choose to study in Israel, they often experience culture shock in their lives outside the lab and classroom. The eight-day [email protected] Seminar gives these students a better sense of the State of Israel through academic study, tours, workshops, and integration into daily life in a unique part of the Negev.
The academic study includes lectures on the history of the Zionist movement and the State of Israel, Israeli society and culture, the Israeli system of government, and the relationship between religion and the state. Lectures are given in English by faculty members of BGU's Ben-Gurion Research Institute.
During their stay in the south, the students visited Beer-Sheva's Advanced Technologies Park, and heard first-hand about its vision and BGU's involvement in its establishment. They also got to witness a hackathon event while they were there.
The seminar also included a two-day tour in the Negev and a day of sightseeing in Jerusalem, followed by workshops focused on exchanging ideas and asking questions about their new academic home.