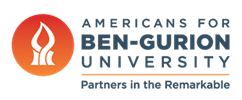 Brain Science for Junior High School Students at BGU
December 24, 2020
Negev Development & Community Programs, Press Releases
Ben-Gurion University of the Negev is looking to the younger generation: a collaboration established between the Inter-Faculty School for Brain Sciences headed by Prof. Ronen Segev and BGU's Jusidman Science Center for Youth under the direction of Dr. Tsiona Elkayam-Cohen, has produced an innovative program that will make neuroscience accessible to junior high school students and encourage them to expand their knowledge of the subject.
The Inter-Faculty School for Brain Sciences encompasses the faculties of humanities and social sciences, engineering sciences, health sciences, and natural sciences, and the program's instructors are BGU graduate students. The programs offer interdisciplinary study of subjects at the forefront of current scientific research and gives them the opportunity to take part in experiments.
"For years I wanted to start a neuroscience program," says Jusidman Science Center for Youth Director Dr. Tsiona Elkayam-Cohen. "It was clear to me that this would be a great way to attract students to the world of science."
Her aspirations were put into action because of a conversation with the head of the Inter-Faculty School for Brain Sciences Prof. Ronen Segev, who was looking for a way to make neuroscience accessible to the general public.
"I feel that our role is to be a bridge to the world outside academia, to push children and teenagers in the direction of scientific and technological education," says Segev. "As far as I'm concerned, it doesn't matter if they'll be neuroscientists, electrical engineers or mathematicians in the future."
Ayelet Eisikovitz, the Jusidman Center's director of pedagogy, notes, "Our real challenge was to build a program that students would enjoy while teaching them content that they would not otherwise have access to."
Mayan Harel, one of the instructors, noted that the program allows her and the team of instructors to share with the students the most interesting parts of neuroscience, "… and they are the same chapters that when I was exposed to them, I had a sense of 'Wow'!'"
Looking to the future, Dr. Elkayam-Cohen adds: "We are also hoping to develop a unique course of study in neuroscience for seniors in high school and to encourage them to expand their studies into the higher education academic framework."
The advancement of the program was also credited to Dr. Heftsi Zohar, deputy mayor of Beer-Sheva and holder of the education portfolio; Zehava Harel (head of the Education Administration); and Rachel Peleg (director of the Department of Secondary Education). They were aided by Anat Beibitz, head of Rager High School, and Inbal Erev, head of the junior high school.​
ABOUT AMERICANS FOR BEN-GURION UNIVERSITY
By supporting a world-class academic institution that not only nurtures the Negev, but also shares its expertise locally and globally, Americans for Ben-Gurion University engages a community of Americans who are committed to improving the world. David Ben-Gurion envisioned that Israel's future would be forged in the Negev. The cutting-edge research carried out at Ben-Gurion University drives that vision by sustaining a desert Silicon Valley, with the "Stanford of the Negev" at its center. The Americans for Ben-Gurion University movement supports a 21st century unifying vision for Israel by rallying around BGU's remarkable work and role as an apolitical beacon of light in the Negev desert.
About Ben-Gurion University of the Negev
Ben-Gurion University of the Negev embraces the endless potential we have as individuals and as a commonality to adapt and to thrive in changing environments. Inspired by our location in the desert, we aim to discover, to create, and to develop solutions to dynamic challenges, to pose questions that have yet to be asked, and to push beyond the boundaries of the commonly accepted and possible.
We are proud to be a central force for inclusion, diversity and innovation in Israel, and we strive to extend the Negev's potential and our entrepreneurial spirit throughout the world. For example, the multi-disciplinary School for Sustainability and Climate Change at BGU leverages over 50 years of expertise on living and thriving in the desert into scalable solutions for people everywhere.
BGU at a glance:  
20,000 students | 800 senior faculty | 3 campuses | 6 faculties: humanities & social sciences, health sciences, engineering sciences, natural sciences, business & management, and desert research.
Media Contact:
Brian Sherry
Stern Strategy Group
908-325-3860