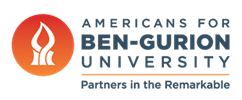 BGU's 'Country Doctors'
October 1, 2009
Medical Research, Negev Development & Community Programs
These days, you probably can't get your doctor to pay a house call unless you're rich and powerful. Yet some of the poorest, most powerless people in Israel who suffer from cancer can dial up Dr. Yoram Singer and Said Abu Abod, who without hesitation will come round to help residents of unrecognized Bedouin settlements – even if emotional support and sympathy are the only remaining options.
After six years of working together, Singer (a Swiss-born palliative care specialist at Ben-Gurion University of the Negev), and Abu Abod (a Bedouin from the village of Kuseifa who coordinates the university's mobile palliative care unit) regard each other as "brothers." BGU's unique team reaches their patients despite sand storms, camels on the road or flash floods.


The project – unique to Israel and possibly the world – exemplifies the great importance that BGU and its Faculty of Health Sciences (FOHS) have given to community service since the faculty was founded 36 years ago.

It was the creed of the late Prof. Moshe Prywes, who established BGU's Joyce and Irving Goldman Medical School, and has been continued by former dean and current BGU President Prof. Rivka Carmi and FOHS dean Prof. Shaul Sofer (both pediatricians by training).

In a four-wheel drive vehicle packed with medical equipment, Singer and Abu Abod – one of whose nine children is currently a medical student in FOHS – go into the field at least twice a week. Their patients are children and adults in Bedouin settlements, as well as other people in Arad and Dimona who suffer from chronic pain.

Clalit Health Services is a partner in the project, and the Israel Cancer Association donated the heavy-duty vehicle and covers the salary of a nurse and social worker.

"Eighty percent of Negev Bedouin die at home," said Singer, who also works as a family physician in the Beer-Sheva area. "This compares with only 17% of the Jewish population."

Thus making house calls to give palliative care is absolutely necessary. Abu Abod, who speaks fluent Hebrew and translates to and from Arabic as Singer needs it, has picked up quite a lot of medical knowledge over the years; like Singer, he has a warm bedside manner and regards each patient as a friend.

There are no ambulances serving the 80,000 or so Bedouin residents of unrecognized Negev villages (who prefer to remain rather than lose their grazing and agricultural land).

Abu Abod blames both his fellow Bedouin and the government for failing to find a solution to the problem, but he warmly praises BGU for the help it offers to Bedouin, including the granting of full scholarships to students who can't afford tuition.

Most homes in the unrecognized settlements are nothing more than metal-roofed shacks with concrete walls and bare floors, and many have no regular power; the luckier families have wires strung from neighbors with generators who sell them electricity. Not long before my tour with Singer and Abu Abod, a young girl died after touching an unsafe wire.

We visit a 70-year-old Bedouin man in his ramshackle home. A heavy smoker for decades, he was diagnosed with lung cancer and knows he will soon die in the same bed in which he was born.

Bony and thin, he is attended by one of his daughters-in-law, who lives nearby, speaks good Hebrew and attends to the old man, while developing a keen understanding of respiratory illness, cancer and what drugs can help relieve pain. Abu Abod notes that many Bedouin smoke hookahs, which take a heavy toll on health.

Although only a few electric bulbs dangle from the ceiling, there are a refrigerator and a number of hi-tech medical devices, such as an oxygen generator and a respiration machine for when he is unable to breathe on his own. A small oxygen tank fitted with wheels enables the patient to go out to the courtyard.

Singer examines his lungs with a stethoscope, listens to whatever his patient has to say and prescribes a more powerful painkiller. The elderly man seems to feel better just from the visit, and Singer and Abu Abod register every detail in a blue folder before bidding the family goodbye – until next time.


Carmi notes that BGU is "not an ivory tower; we encourage community involvement by our students. We select them not only according to their exam results but especially after two personal interviews so we can gauge their humanity."

Sofer adds that the medical school runs a project to reduce infant mortality among Bedouin that has already borne fruit. Groups of Bedouin women from nearby Rahat have been organized into walking groups to get regular exercise. Projects to encourage Bedouin men to stop smoking have also been launched by FOHS.

A project called Nitzanei Refuah (literally, medical buds) – funded solely by donations – searches for the best 10th-grade pupils – girls and boys – in Jewish schools in Beer-Sheba and Bedouin ones in the Negev. The top 30 are brought to FOHS to study general medicine in Hebrew.

Within six years, 24 completed one of FOHS's schools (including nursing, pharmacy and other health professions), and 54 more are currently enrolled. Today, a Bedouin woman graduate works at Soroka University Medical Center in obstetrics/gynecology, and there is four or five more studying medicine.

A new academic nursing program for Bedouin women has just begun despite initial but unproven Health Ministry fears that they would have a lower standard, and 18 Jordanian paramedics are coming to BGU next month to study emergency medicine.

The medical school dean recalled that when he came to BGU in 1976, it was almost impossible to attract physicians. This year, not only is the regular medical school in high demand, but 170 foreigners have come to BGU's Medical School for International Health, launched 13 years ago with Columbia University Medical Center.

Conducted in English, it is a four-year M.D. program to graduate doctors with special skills in primary care and community, preventive and population-based medicine.

Four BGU medical students are brought in for an interview while all BGU officials leave the room. Three of them are Jewish immigrants and one a Bedouin (Abu Abod's son). The students are fairly typical, except that all are men, while over 52 percent of BGU's medical students are women.
Maru Gete, who came on aliya from Ethiopia as a child in 1991, is modern Orthodox and has a wife and baby; Moataz Abu Abod comes from Lakiya; Pavel Kotlarsky from Russia, while Uriel Giwnewer immigrated from Argentina.

The last two are co-chairman of BGU's Health Sciences Student Association, which works for their benefit and promotes participation in community projects.

Gete says the entrance interviews focus on personal ethics, such as whether the applicant would cover for a soldier who wants to get out of a combat unit by reporting he is "unhealthy." Candidates cannot fake their personalities, he says, because of the hours of penetrating interviews.

Abu Abod, who spent a year in preparatory studies, says written-test marks are indeed less important than the interviews. He was inspired to go into medicine because he heard so much about his father's palliative home care as a child. Gete, a former shepherd, recalls that as a small boy in the Gondar region, he had a serious ear infection.

"My father took me to a church not far away that somehow had a collection of medications. I remember that when drops were put into my ears, I immediately felt better. From then on, I wanted to be a doctor."

Kotlarsky served in the Israel Defense Forces and saw the work of doctors. "I like working with people, and thought medicine would be an intellectual challenge. I am 32, quite a bit older than other students here," says the former Russian immigrant.

He doesn't remember much from his first-year courses in physics and chemistry, but recalls every detail of his personal chat with a pregnant woman before delivery. Giwnewer served in Gaza during the last war, "and somebody next to me was wounded. I wanted to do something significant, and that incident sparked my interest in medicine."

All found anatomy studies on cadavers difficult and needed time to get used to them, but were impressed by the way that bodies donated to science, and kept for a year until their burial, are treated with the utmost respect – with the face covered except at the end of the year, when the upper part of the body is dissected.

Simulations are used a great deal, but cannot replace the need to study anatomy on humans.


Friendships and cooperation among BGU students are very prominent. "My best friends on campus are religious guys with crocheted kippot," says Abu Abod. "I studied at the high school in Kibbutz Shoval with Jews and some other Bedouin. My highest grades were in Bible," he says in fluent Hebrew.

"I first studied biomedical engineering in another university, but after coming to BGU, I saw the big difference in atmosphere among the students and faculty members. It is much friendlier here," adds Giwnewer.

"Somebody is always taking notes and doing summaries of lectures for people who are sick, on reserve duty or stuck, and they put them up on an Internet site."

Research is a major activity of many FOHS graduates. Prof. Angel Porgador coordinates tumor immunology research in the faculty; Prof. Ron Apte, who heads the division of basic science, works with 70 researchers in basic science and clinical medicine.

The fields range from clinical biochemistry and phamacology to morphology, physiology and microbiology and cancer and Alzheimer's to diabetes and epilepsy.

Both came from the Weizmann Institute of Science and found the level of informal ties among students and faculty very intense. "There are many more researchers per capita in Israel compared to other countries, but there is too little money to do it," notes Porgador.

"The state has failed to invest enough money in science, and we have to fight for every grant." He personally conducts research on biomarkers for cancer and other diseases using artificial membranes, with the aim of early diagnosis and monitoring.

Apte concentrates mostly on cancer and inflammation, which is thought to be an integral part of tumors. "Cancer cells take advantage of their microenvironment and proliferate." His team has shown that the neutralization of an inflammatory mediator with a rheumatoid arthritis drug slows down invasiveness.

Not everyone in the medical faculty studies for an M.D. Dr. Limor Aharonson-Daniel heads the master's program for paramedics and is head of BGU's center for research into disasters and emergencies. Her U.S.-born colleague Dr. Lior Nesher heads the FOHS emergency medicine and medical simulation unit.

Aharon-Daniel notes that some of her students wanted to be physicians but failed to be accepted, while others began as military medics and want to become paramedics; some even go on to become physicians.

The curriculum in coping with disasters is not clinical, but trains graduates, who range in age from 30 to 60, to cope with natural catastrophes, terror incidents and population behavior. Israel has a lot of experience in this, and there are few if any such centers elsewhere in the world.

Male, female and child mannequins are used at Nesher's simulation center, and the trend is clearly to have medical students train on these before touching human beings.

"They are very hi-tech, with human-like reactions. The interaction is videotaped so students can see what they've done right and wrong. Malpractice insurance companies around the world are increasingly demanding that medical students undergo a lot of simulation," he says.

Finally, to discuss disease prevention and health promotion, FOHS's Dr. Nadav Davidovitch, an epidemiologist and health sociologist, notes that there is increasing interest in these subjects after decades of neglect. The health funds, he says, "are also paying attention for economic reasons, as it is cheaper to prevent disease than treat it."

Health promotion used to be regarded as paternalistic, says Davidovitch. "It involved 'berating' fat people, couch potatoes and smokers. But today it has been realized that one has to develop ways to promote healthy cities and environments. It can't be dictated from above but must come from and be suited to the local level."
BGU offers a bachelor's degree in management of health systems and a very competitive master's degree program in health promotion and public health. Here too, concern for residents of Beer-Sheba and environs is very strong.

Work is done on lowering infant mortality rates, translating for Bedouin mothers, kindergarten and school teachers of material about nutrition, hygiene, recycling and accident prevention, he says.

"I come from Tel Aviv; here, the researchers have a sense of mission to promote health in the community. Subjects such as preventing harm to farm workers from exposure to pesticides, fighting smoking and making former Soviet Union and Ethiopian immigrants aware of available health services are very prominent."