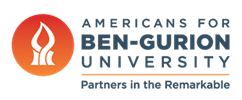 BGU Study Abroad Students Undeterred by Missiles
November 27, 2012
Israel Studies, Culture & Jewish Thought
JTA — One of the top reasons American students choose to study at Ben-Gurion University of the Negev is that it offers an authentic Israeli immersion experience.
Studying in Beer-Sheva, unlike other programs in English-dominated cities with large American populations, gives study abroad students the opportunity to live with Israeli suitemates in the dormitories, be "adopted" by local families, and use their new Hebrew skills in daily life.
During last week's Operation Pillar of Defense with missiles being launched into Israel from Gaza, students at BGU's Ginsburg-Ingerman Overseas Student Program (OSP) had the opportunity to learn more about the reality of Israeli life than they could have imagined.
OSP student Shoshana Leshaw, a junior at Queens College, found herself reacting to the first two tzeva adom (red alert) sirens by running from her second floor dorm room down to the bomb shelter in the basement of the building. She and her fellow students had been briefed on how to react in the event of a missile strike.
By the third or fouth siren, Shoshana had already adopted a more Israeli attitude towards the sirens.
"It's almost like you're sick of the sirens interrupting your sleep. You just want to get it over with and go back to what you were doing," says Shoshana.
The day after Operation Pillar of Defense began, BGU's OSP students were relocated to the University's Sde Boker Campus which was out of missile fire range. Program staff quickly arranged for the students to continue their coursework there.
Read more on the JTA website >>
Note: Following the announcement of a cease-fire, BGU's OSP students were able to go "home" to Beer-Sheva on Friday, November 23, 2012. They enjoyed a communal Thanksgiving feast and spent a quiet weekend buckling down on their studies, with papers and exams coming up soon.