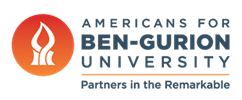 Students Deepen Their Awareness of Holocaust Issues
May 6, 2014
Israel Studies, Culture & Jewish Thought
eJewish Philanthropy — Following a long selection process which included online applications, personal interviews and a social screening workshop, a group of ten students from BGU's Hillel were selected to participate in the year-long International Phoenix Delegation program, which among other activities includes a trip to Poland and Lithuania together with 60 Jewish students from the former Soviet Union.
The "Phoenix" program was initiated by the Genesis Philanthropy Group and now operates as a joint program of the Genesis Philanthropy Group, Yad Vashem, the Joint Distribution Committee and the Jewish Agency.
For the Israeli students participating from BGU's Hillel, this program provides a unique opportunity to deepen their knowledge, understanding, and awareness of Holocaust issues in general, and its practical lessons in particular, fostering student volunteerism with Holocaust survivors.
It also deepens the students' knowledge, understanding, and awareness of Jewish life in Eastern Europe before and after WWII, emphasizing not only that which has been lost but celebrating what emerged and exists today.
The program also aims to enhance the relationships and create connections between Russian-speaking Israeli students and members of other Jewish communities abroad, allowing the Russian-speaking participants to feel more connected to the Jewish people, gaining a better understanding of their background and feeling more confident in exploring their current commitment to Jewish life and to the global Jewish community.
The participants, as a result of their involvement in the program, will become engaged and committed to further exploring their Jewish identity and will feel empowered to develop their leadership skills through a Jewish lens, so that they will have the tools with which to engage, educate and influence their peers.
"The story of the Holocaust is directly related to my family history. In recent years I have tried to connect and learn more on the subject. That is why, for example, I registered for a Yiddish course at the University," says Yossie Lepovski, a second-year student of economics and accounting.
"I think my mother is very pleased to know that I am participating in the delegation, knowing that I will have the opportunity to meet and connect with young people from the Former Soviet Union and speak Russian."
Read the full article by Odelia Steinberg, director of BGU's Hillel, on the eJewish Philanthropy website >>