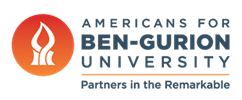 Student Profile:
Mirit Bat-Chorin
August 31, 2011
Israel Studies, Culture & Jewish Thought
Department: Israel Studies
Degree Program: M.A.
Age: 27
Hometown: Yerucham
What is the focus of your studies?
I'm interested in Jewish thought, Jewish identity, and Israeli social and cultural structure.
Why did you choose BGU?
I chose BGU three years ago, when I was an undergraduate, mainly because of the "Ayalim" student village project located in the Negev. Also, BGU is the only university in Israel that teaches Israel studies.
What do you like most about BGU? Your program?
I love the fact that it's a small and intimate university, especially the humanities Faculty. I love the fact that a large percentage of students is involved in the community and has social awareness.
As for my program, the fact that it's taking place in Sde Boker is wonderful for many reasons. First of all, it's a beautiful place that has a very strong link to the all-Zionist project. Second, it's the most intimate and friendly learning environment Research, and third, it's close to where I'm' living, in Yerucham.
What is special, too, is the personal relationships we have with the professors in the learning environment Research at Sde Boker.  Along with with the Ben-Gurion Archives, this creates the perfect learning and teaching environment Research for any young scholar.
Why is what you're studying important?
What I'm learning gives me the basic tools to understand the place where I'm living–its history, its ideas, identity conflicts, social structure, military background, culture and more.
Are you also working? Volunteering?
I work as a teacher assistant for Dr. Paula Kabalo in an introductory course for Israel Studies that is taught for the Overseas Student Program.
I participated as a member and was one of the first residents of a student village in Yerucham for three years while earning my B.A. During that time I worked with children and adults, built community life and got to know the Negev and Yerucham in particular.
What have you learned that surprised you?
I was surprised by the theories of Diaspora nationalism and particularly Jewish-American Zionism. Those are new ideas for me, as a born Israeli..
Your plans for the future?
Right now I'm hoping to continue with my research and perhaps study for my Ph.D. in the U.S.