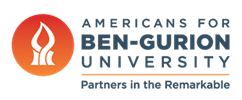 BGU and Rhode Island Collaboration Fosters Innovation
November 21, 2019
Business & Management, Press Releases
The Hon. Gina M. Raimondo, governor of Rhode Island, visited Ben-Gurion University of the Negev (BGU) in Beer-Sheva, Israel yesterday to sign a Memorandum of Understanding (MOU) focused on joint innovation and entrepreneurship. BGU President Prof. Daniel Chamovitz represented the University.
The agreement between BGU and the state of Rhode Island calls for encouraging a strong collaboration and cogeneration of business startups, valuable high-tech internships and job opportunities with Rhode Island's leading public and private universities.
It also calls for collaboration between Rhode Island's new innovation campuses, RIHub, and BGU's Advanced Technologies Park (ATP), a unique partnership between BGU, the Beer-Sheva municipality and the private sector that provides opportunities for collaboration and job opportunities for BGU students and graduates.
Many prominent multinational corporations have already established centers of excellence in the ATP. RIHub is located within the Providence CIC complex at the Wexford innovation building in Providence, Rhode Island.
"Today we are signing an agreement to cooperate on innovation and entrepreneurship, to bring together BGU's Advanced Technologies Park, BGU's YAZAMUT 360 entrepreneurship program and RIHub, Rhode Island's new innovation center," said BGU's Prof. Chamovitz. "I want to thank our mutual supporters who brought us together to this next step after five years of laying the groundwork."
"Since the start of my administration, I have prioritized the revitalization of our economy and worked to ensure that Rhode Island is known for innovation and economic opportunity," said Governor Raimondo. "We have seen great economic momentum in recent years, and we have the potential for even more economic growth.
"We are pleased to be entering a partnership with our valued colleagues at Ben-Gurion University of the Negev. This partnership will provide access to international expertise and global resources, and it will forge collaborations well into the future. We look forward to many years of partnership and progress together."
Also present at the signing were Prof. Limor Aharonson-Daniel, vice president for global engagement, Prof. Dan Blumberg, vice president for regional and industrial development and  Jeff Kaye, vice president for public affairs and resource development.
In addition to Profs. Chamovitz and Blumberg, the governor met with Prof. Carmel Sofer, chairman of BGU's YAZAMUT 360 for Entrepreneurship and Innovation Center and Dana Gavish-Fridman, head of entrepreneurship at BGU, as well as representatives from Dell-EMC, IBM, Tech 7, Morphisec, and serial entrepreneur Ziv Ofek.
The governor is in Israel leading a group of Democratic governors to Israel on an economic development and policy mission. The delegation will be meeting with policy experts, elected officials and entrepreneurs to strengthen their relationships with the State of Israel and build new partnerships with its business community.
 "We are excited that Gov. Raimondo is looking to BGU, the Advanced Technologies Park and our entrepreneurial ecosystem as a model to foster growth of startups in the U.S.," said Doug Seserman, chief executive officer of American Associates, Ben-Gurion University of the Negev. "We look forward to the ongoing development of this project and a long-term relationship for our students and startups with the State of Rhode Island."
ABOUT AMERICANS FOR BEN-GURION UNIVERSITY
By supporting a world-class academic institution that not only nurtures the Negev, but also shares its expertise locally and globally, Americans for Ben-Gurion University engages a community of Americans who are committed to improving the world. David Ben-Gurion envisioned that Israel's future would be forged in the Negev. The cutting-edge research carried out at Ben-Gurion University drives that vision by sustaining a desert Silicon Valley, with the "Stanford of the Negev" at its center. The Americans for Ben-Gurion University movement supports a 21st century unifying vision for Israel by rallying around BGU's remarkable work and role as an apolitical beacon of light in the Negev desert.
About Ben-Gurion University of the Negev
Ben-Gurion University of the Negev embraces the endless potential we have as individuals and as a commonality to adapt and to thrive in changing environments. Inspired by our location in the desert, we aim to discover, to create, and to develop solutions to dynamic challenges, to pose questions that have yet to be asked, and to push beyond the boundaries of the commonly accepted and possible.
We are proud to be a central force for inclusion, diversity and innovation in Israel, and we strive to extend the Negev's potential and our entrepreneurial spirit throughout the world. For example, the multi-disciplinary School for Sustainability and Climate Change at BGU leverages over 50 years of expertise on living and thriving in the desert into scalable solutions for people everywhere.
BGU at a glance:  
20,000 students | 800 senior faculty | 3 campuses | 6 faculties: humanities & social sciences, health sciences, engineering sciences, natural sciences, business & management, and desert research.
Media Contact:
Brian Sherry
Stern Strategy Group
908-325-3860