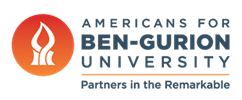 BGU Helps Negev Bloom Into High-Tech Hub
May 11, 2018
Negev Development & Community Programs, Robotics & High-Tech
Medtech Insight – Israel's first Prime Minister David Ben-Gurion had a vision. The late leader believed Israel's large Negev desert area held the key to the country's future growth and that it could bloom into a place of infinite possibility. Although Ben-Gurion died in 1973, today his vision for the desert is becoming a reality.
Located at the northern edge of the Negev is Beer-Sheva, one of Israel's fastest growing cities and the heart of Israel's rising high-tech hub. The city is home to Ben-Gurion University (BGU) and a growing number of multinational companies that are forming a strong tech ecosystem.
BGN Technologies, the technology-transfer company of BGU, is focused on spurring this innovation by commercializing technology coming out of the University to serve market needs. Located in the Ben-Gurion Advanced Technologies Park (ATP), BGN nurtures relationships between academia and industry to bring inventions from the labs to the market.
To date, the company has founded over 100 startups across various fields.
Last year, Xact Medical, a startup that automates ultrasound-guided object placement in the body, was established based on a technology that emerged from a multi-year collaboration between BGN and Cincinnati Children's Hospital.  The goal of the collaboration is to improve health outcomes for children by ensuring device design that is customized to meet children's unique physiology and medical needs. It pairs BGU's technical and engineering capabilities with the medical expertise of children's physicians.
"The University is a real anchor to all the high-tech and biotech research activity taking place in the Negev," says Dana Gavish-Fridman, vice president of entrepreneurship at BGN.
ATP was launched just over five years ago and is now experiencing a rapid rate of growth.
"If you came to this area just six years ago it would have just been sand," says Gavish-Fridman. "Now, there are over 2,500 people working here in a flourishing innovation ecosystem."
BGU's efforts are backed-up by the Israeli government that invests heavily in the region. The Israeli army now plans to bring its best high-tech and intelligence units to Beer-Sheva, which will intensify the area's technology focus.
"This is the only Israeli university which has tripled its size in 20 years. There's been huge development and we are still a relatively young university," says Netta Cohen, chief executive officer of BGN.
"We have a very strong technology-transfer operation that serves the University and many different industries. With multinationals such as Deutsche Telekom, IBM, Oracle, and Lockheed Martin setting up R&D centers here and our new entrepreneurship initiative, the world should watch this space. Beer-Sheva is a small place but with a big emerging innovation ecosystem."
The CDI – Center for Digital Innovation
Also located at ATP, is the Center for Digital Innovation (CDI-NEGEV) – a nonprofit support center that combines aspects of a business incubator, think tank and startup company, and is the world's first innovation laboratory designed to meet the challenges facing today's senior citizens.
Founded by Ziv Ofek along with fellow entrepreneurs Sharon Sasportas and Boaz Gur Lavie with major involvement from BGU, the project is backed by million-dollar investments and partnership with several of Israel's leading organizations and companies.
CDI's goals focus on developing innovation in four main areas – digital health, welfare and healthy ageing, education, and smart cities.
"What's special about CDI is that we deal with all these areas together at the same time, because we believe that every area is affected by one another and they are all connected," says Idan Papier, director of CDI's Healthy Aging Program.
Papier works with a team to develop digital technologies aimed at addressing the challenges of an aging population. The center recently opened Israel's first Innovation Lab for Healthy Aging, a joint effort among CDI, BGU, the National Insurance Institute of Israel, the Beer-Sheva municipality, the American Jewish Joint Distribution Committee (JDC), and the Amal & Beyond Group.
The new innovation lab is designed as a fully furnished model home that simulates senior citizens' living environment and enables startups to take a "holistic approach" to developing solutions. New technologies and product prototypes are tested in and around the home to meet challenges, such as preventing falls, alleviating loneliness, slowing deterioration, treating pain, and assisting in activities like bathing and toileting.
Papier says CDI is also experimenting with giving virtual reality 3-D glasses to the elderly so they can experience new worlds and to help tackle common problems such as loneliness. Other innovative ideas to tackle loneliness include using a robot to identify facial expressions so if the person is sad, the robot will identify that emotion and contact a family member, friend or doctor to get in touch with the elderly person.
CDI's community of startups currently stands at 31 companies.
Read more on the Medtech Insight website >>