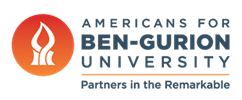 BGU Bestows Honorary Doctoral Degree on Biotechnology CEO and Satellite Technology Pioneer Dr. Martine Rothblatt
May 14, 2010
BEER-SHEVA, ISRAEL, May 12, 2010 — Ben-Gurion University of the Negev (BGU) awarded a prestigious honorary doctoral degree to medical and communications industry innovator Martine Rothblatt, Ph.D., M.B.A., J.D., on May 11 in a ceremony at the University.
Dr. Rothblatt is founder, chairman and chief executive officer of United Therapeutics (NASDAQ:UTHR) biotechnology company which is focused on the development and commercialization of unique products that address the unmet needs of patients with chronic and life-threatening conditions. The company is headquartered in Silver Spring, Maryland.
Dr. Rothblatt also spearheaded a communications revolution as the founder of the SIRIUS Satellite Radio Network, and the first global satellite radio network World Space in 1990. Prior to that, she orchestrated the first PanAmSat, a private international spacecom project, as well as the first satellite vehicle location system at GEOSTAR in 1983.
In accepting the degree, Dr. Rothblatt said, "There is the saying that beauty is in the eyes of the beholder. There could be no more esteemed beholder of intellectual beauty than Ben-Gurion University. Hence, there could be no greater honor bestowed upon me. Thank you from the core of my soul."
Throughout these decades of achievement, Rothblatt has also been involved in numerous philanthropic projects. She led the International Bar Association's bio-political project to draft a Universal Declaration on the Human Genome and Human Rights for the United Nations.
The final version was adopted by the United Nations Educational, Scientific and Cultural Organization (UNESCO) in 1997 and by the United Nations General Assembly in 1998. Its purpose is to protect human hereditary information from manipulations that may endanger the identity and physical integrity of future generations.
"It is an honor to recognize someone who has had such a range of interests and expertise," said Prof. Rivka Carmi, president of BGU. "Dr. Rothblatt has had such a transforming effect on the world – both in satellite technology and biotechnology."
Rothblatt also established the World against Racism Foundation (WARF) and its virtual museum. WARF is building a memorial to educate the public, especially young people, about the fiction of race, the ignorance behind racism and the need to relate to all people as individuals rather than as racial categories.
ABOUT AMERICANS FOR BEN-GURION UNIVERSITY
By supporting a world-class academic institution that not only nurtures the Negev, but also shares its expertise locally and globally, Americans for Ben-Gurion University engages a community of Americans who are committed to improving the world. David Ben-Gurion envisioned that Israel's future would be forged in the Negev. The cutting-edge research carried out at Ben-Gurion University drives that vision by sustaining a desert Silicon Valley, with the "Stanford of the Negev" at its center. The Americans for Ben-Gurion University movement supports a 21st century unifying vision for Israel by rallying around BGU's remarkable work and role as an apolitical beacon of light in the Negev desert.
About Ben-Gurion University of the Negev
Ben-Gurion University of the Negev embraces the endless potential we have as individuals and as a commonality to adapt and to thrive in changing environments. Inspired by our location in the desert, we aim to discover, to create, and to develop solutions to dynamic challenges, to pose questions that have yet to be asked, and to push beyond the boundaries of the commonly accepted and possible.
We are proud to be a central force for inclusion, diversity and innovation in Israel, and we strive to extend the Negev's potential and our entrepreneurial spirit throughout the world. For example, the multi-disciplinary School for Sustainability and Climate Change at BGU leverages over 50 years of expertise on living and thriving in the desert into scalable solutions for people everywhere.
BGU at a glance:  
20,000 students | 800 senior faculty | 3 campuses | 6 faculties: humanities & social sciences, health sciences, engineering sciences, natural sciences, business & management, and desert research.
For all press inquiries, please contact:
James Fattal, J Cubed Communications
516.289.1496