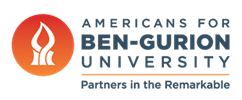 Ben-Gurion University of the Negev Confers Honorary Doctoral Degree Upon Philanthropist and Businessman Gustave S. Levey
July 11, 2008
Alternative Energy, Press Releases
HOUSTON, August 4, 2010 — Ben-Gurion University of the Negev (BGU) is presenting philanthropist and businessman Gustave S. Levey with a prestigious honorary doctoral degree at a ceremony taking place Sunday, August 8, 2010. The Greater Texas Region of American Associates, Ben-Gurion University of the Negev (Americans for Ben-Gurion University) is hosting the event at the Houston Intercontinental Hotel.
Gus Levey, both lawyer and inventor, has been a longtime proponent of solar energy initiatives, which have helped position Ben-Gurion University as a global leader in alternative energy technology. In addition to his foresight as a major supporter of BGU's initiatives in this area, he has also been instrumental in securing important patents for BGU in the solar energy arena.
"Many years ago, Gus saw that alternative energy technology would become an important strategic asset to Israel and provided immeasurable support in establishing BGU in this field," says BGU President Prof. Rivka Carmi. "He is a brilliant, generous and humble man who has been a longstanding philanthropic supporter of Israel, as well as the Houston community and is most deserving of receiving the University's highest honorary award."
Gus is president of GSL Investments, Inc., a Houston real estate company. He also founded Speeflo Corporation, which manufactured gas, electric powered paint sprayers. He sold the company and secured 19 patents, some of which have revolutionized the spray-painting industry.
Gus Levey has been able to combine his philanthropic interest in education with his real estate acumen, converting several Houston commercial buildings into schools. Gus and his wife Marjorie also underwrote the Marjorie and Gustave Levey Dormitory located on the American Associates, Ben-Gurion University of the Negev (Americans for Ben-Gurion University) Dormitory Complex in Beer-Sheva.
Levey began his education at Wichita University and then served as a navigator in the U.S. Army Air Corps. After his service, he earned a B.S. in economics and a law degree from the University of Houston.
For event information contact Americans for Ben-Gurion University Regional Director Deborah Bergeron at [email protected] or (713) 522-8284.
ABOUT AMERICANS FOR BEN-GURION UNIVERSITY
Americans for Ben-Gurion University plays a vital role in maintaining David Ben-Gurion's vision of an "Oxford in the Negev." By supporting a world-class academic institution that not only nurtures the Negev, but also shares its expertise locally and globally, Americans for Ben-Gurion University engages a community of Americans who are committed to improving the world. The Americans for Ben-Gurion University movement supports a 21st century unifying vision for Israel by rallying around BGU's remarkable work and role as an apolitical beacon of light in the Negev desert.
Media Contact:
Andrew Lavin
A. Lavin Communications
516-944-4486
[email protected]