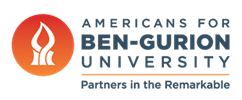 Americans for Ben-Gurion University Has Most Successful Campaign Year to Date
December 8, 2014
Leadership, Awards & Events, Press Releases
New York, NY, December 8, 2014 — Americans for Ben-Gurion University announced today that $60 million in campaign revenue was raised in its 2014 fiscal year, which ended on September 30. Americans for Ben-Gurion University's previous best was $41 million.
"For 45 years, since its inception, Ben-Gurion University of the Negev (BGU) has attracted the best and the brightest faculty, students and donors due in part to the pioneering spirit, dedication and innovation necessary to flourish in the desert," says New York City real estate mogul and Americans for Ben-Gurion University President Lloyd Goldman. "I am grateful to our board and donor family for their investment in this great institution that seeks to fulfill David Ben-Gurion's vision for the Negev region."
"As the American fundraising organization for Ben-Gurion University, Americans for Ben-Gurion University continues to expand our donor base at all levels of contribution," explains Doron Krakow, executive vice president of Americans for Ben-Gurion University.
"This banner year was due to several significant contributions, a long-term investment in building our infrastructure, as well as a quality program calendar that continues to attract new donors and engage our existing supporters."
Among the positive milestones at BGU this year were the agreements with many major international technology companies, including IBM, Lockheed Martin and EMC, which selected the Advanced Technologies Park adjacent to the BGU campus to locate their cyber security and high-tech initiatives. Additionally, BGU signed an agreement with the Israel Lands Authority to expand the University and a build a new campus in Beer-Sheva.
The additional 57 acres — the last undeveloped tract of land within the already developed footprint of the city — will be connected to BGU's flagship Marcus Family Campus via a series of pedestrian bridges and walkways, and will double the size of the University.
"Among the first buildings to be built on the new North Campus will be student dormitories, classrooms, laboratories, and a conference center," says Krakow. "As always, the University looks to us for help in bringing the development of this campus to fruition and to make room for more than 10,000 additional students over the next few years."
In November, for the fifth time, BGU organized and hosted the prestigious United Nations Conference on Drylands, Deserts and Desertification attended by professionals and officials from dozens of countries. On the medical front, the University continues to focus on cutting-edge research, drug development and treatment of many different diseases that impact the world.
"Americans for Ben-Gurion University raises in excess of 75 percent of BGU's private funding, which was very important this year as the University continues to expand its research and academic infrastructure, as well as recover from missile attacks and overcome the problems caused by Operation Protective Edge," says BGU President Prof. Rivka Carmi. "We are grateful for the dedication and efforts of the Americans for Ben-Gurion University community, who support David Ben-Gurion's dream of establishing a world class university in the Negev," she says.
ABOUT AMERICANS FOR BEN-GURION UNIVERSITY
By supporting a world-class academic institution that not only nurtures the Negev, but also shares its expertise locally and globally, Americans for Ben-Gurion University engages a community of Americans who are committed to improving the world. David Ben-Gurion envisioned that Israel's future would be forged in the Negev. The cutting-edge research carried out at Ben-Gurion University drives that vision by sustaining a desert Silicon Valley, with the "Stanford of the Negev" at its center. The Americans for Ben-Gurion University movement supports a 21st century unifying vision for Israel by rallying around BGU's remarkable work and role as an apolitical beacon of light in the Negev desert.
About Ben-Gurion University of the Negev
Ben-Gurion University of the Negev embraces the endless potential we have as individuals and as a commonality to adapt and to thrive in changing environments. Inspired by our location in the desert, we aim to discover, to create, and to develop solutions to dynamic challenges, to pose questions that have yet to be asked, and to push beyond the boundaries of the commonly accepted and possible.
We are proud to be a central force for inclusion, diversity and innovation in Israel, and we strive to extend the Negev's potential and our entrepreneurial spirit throughout the world. For example, the multi-disciplinary School for Sustainability and Climate Change at BGU leverages over 50 years of expertise on living and thriving in the desert into scalable solutions for people everywhere.
BGU at a glance:  
20,000 students | 800 senior faculty | 3 campuses | 6 faculties: humanities & social sciences, health sciences, engineering sciences, natural sciences, business & management, and desert research.
Media Contact:
Brian Sherry
Stern Strategy Group
908-325-3860